Cyclists from Wolverhampton Lawn Tennis and Squash Club are planning to field the largest team in this year's Aberdovey Bike Ride as they look to raise money for a cause very close to their hearts.
WLTSC already has over 40 riders in training for the June 15 ride, from which all funds raised will be shared between the Giles Trust and the Critical Care Unit, both based at Birmingham's Queen Elizabeth Hospital.
Much-loved club member Robert Marshall received a great deal of care and support at the hospital before passing away at the age of 57 last November, whilst the Giles Trust funds vital research into brain tumours.
Ryan Hughes, nephew of WLTSC Operation Manager Marc Hughes, was diagnosed with a brain tumour two years ago but has made excellent progress following surgery and has now been given the all-clear.
"This time last year was very difficult as Ryan was awaiting his operation and when we did the Aberdovey ride it was 'Riding for Ryan', raising funds for Brain Tumour Support," says Marc.
"This year I am delighted to say that it is 'Riding With Ryan', because he and my brother Paul are both joining myself and our team to cover the 105 miles from Wolverhampton to Aberdovey, or 125 if you go over the sizable hill at Dinas!
"It should be a far more enjoyable event this year knowing that Ryan has made such amazing progress – he is a smashing lad and is the only child of my brother and his wife so it has been a tough time for all of the family over the last couple of years.
"We are really pleased to have so many people from WLTSC riding, particularly also in tribute to Robert who was a friend to so many and a very popular member of the club.
"We have over 40 in the team already, which we are told is the biggest in the event so far,and have been getting in the saddle and getting the miles into the legs with a number of training runs every Sunday."
Many other club members have been providing support for the event, with Steve Smith from The Studio Group, Gregg Davies from ima Financial Solutions and Chris Wright from Dunstall Park Garage all sponsoring the race day t-shirts.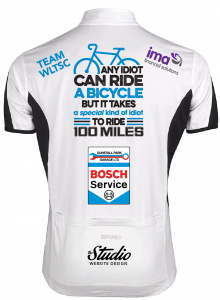 Louise Archer, a sports masseur at the club, has also offered her services and will be working on the bad backs and sore legs that will undoubtedly afflict the riders as they take breaks during the ride which is expected to take approximately seven hours.
"Our target is to raise £5,000, and we have already had some great support from other club members," adds Marc.
"I am sure there will be many more of them towards the finishing line in Aberdovey on the day, enjoying a pint or two at the Britannia Inn and waving us through those last few hundred yards.
"It isn't a competition or a race, it is all about helping everyone to get to the finish, and we are all looking forward to a tough challenge, but a great day."
Click here to donate to the WLTSC team as they raise money for Birmingham's Queen Elizabeth Hospital.