The fantastic charity challenges recently completed by WLTSC members have been hailed as an example of the togetherness and community spirit in evidence at the club.
After 40 riders raised over £8,000 for Birmingham's Queen Elizabeth Hospital by completing the Wolverhampton to Aberdovey Bike Ride in June, last weekend it was the turn of Energize Personal Trainer Brendon Turner and his intrepid band of warriors!
Some eighteen hardy souls, supported by a 15-strong support team, carried Compton Care staff members Grace and Debbie across 140 miles of difficult terrain, via a cycle-led trailer, stretcher across the Brecon Beacons and canoe down the River Wye.
It was the third Lord Bilston Big Challenge put together by Brendon in memory of his father Dennis, a former MP, and so far over £6,000 has been raised for Compton Care, who treated him in his final days before passing away.
WLTSC Operations Manager Marc Hughes was among those taking on the challenge, which took a total of 25 hours and saw the team return to a heroes' welcome at the club, slightly later that expected at 1.30 on Sunday morning!
"For me these challenges have shown all the good things that the club have done for many years," said Marc.
"But maybe we haven't shouted about it too much or documented it.
"When you look at Aberdovey and the Lord Bilston Big Challenge, there were probably 100 people involved in total, including the support crew.
"So far the challenges have raised £15,000 for two really important charities and hopefully we can get to £20,000 if we are lucky.
"A club is all about people, and the people doing great things like these challenges.
"Sometimes all it needs is for someone to push everyone else along, and Brendon did a fantastic job in that respect with the Lord Bilston Big Challenge.
"The events have created some great memories, and that comes on top of all the tennis, squash, racketball, gym successes, social events and everything else that happens at WLTSC.
"Hopefully this encourages people who aren't too sure about joining a club and almost feel like the word club is a barrier, that everybody fits in.
"It is about forming friendships and getting involved in things rather than just sitting in front of the telly at home!
"For people to come and do some sport, get fit, and then maybe get involved in some charity work as well which will make a positive difference – it can be really worthwhile."
Marc says it was that team spirit which kept the participants going during such a gruelling and tough Lord Bilston Big Challenge, but not only from those taking part but those back at WLTSC who took such a keen interest in their progress.
"I have spoken to so many people this week who were so pleased that they got involved and took the challenge on," says Marc.
"It is amazing what you can do together as a group.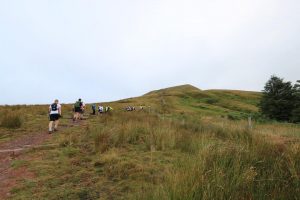 "Had we be doing the challenge individually, I am not sure any of us would have completed it, especially when we were struggling up the Brecon Beacons not that long into Saturday morning!
"But we stayed together, pushed each other on, and everyone kept going..,for another 15 hours!
"Then you come back and everyone back here is interested in how it went, asking us how we got on and what it was like.  I love that.
"The conversations will continue and everyone enjoys discussing the challenge and that is something that everyone involved should feel very proud of.
"There are a lot of people who have been members at WLTSC for a very long time who are genuinely interested in what is going on.
"And when you look at the two challenges, there are a lot of people at the club who have been supported at some stage by either Compton Care or Birmingham's Queen Elizabeth Hospital, so it is great to be able to give something back."
For Brendon himself, it was an equally testing challenge, which also saw him the target of much displeasure from colleagues as the gruelling terrain added to the difficulties!
But he was understandably delighted to see everyone make it back in one piece.
"It was certainly the most extreme challenge we have done yet," he said.
"There were a few lads in a few dark places along the way.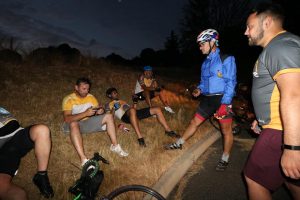 "It was an extremely hilly route, from the first one we did on the bikes not long after starting which was a four-mile incline, non stop!
"Did they give me grief for sorting the route? They told me they hated me throughout the day, but that gave me added motivation.
"We all made it through, which is the main thing, and there was some great teamwork with the trailers and the carrying, and people just pushing each other on. It was a very long session!
"It was nice to have a little crowd waiting for us when we got back to the club in the early hours, particularly as everybody had given it everything in that last section.
"But all in all it is great to have completed the challenge, and hopefully the money we have raised for Compton Care will continue to go up until the dinner we are having in September."
There is still time to contribute to the funds raised for Compton Care by this year's Lord Bilston's Big Challenge – click here to donate.