Another sizeable contingent of members from Wolverhampton Lawn Tennis & Squash Club will be cycling the 104-mile Aberdovey Ride on Friday, many in aid of Compton Care.
Around 40 members of Wolverhampton Lawn Tennis and Squash Club will take on the ride, with almost half raising funds for the vital local charity.
Operations Manager Marc Hughes said: "There is a really positive community spirit among members at WLTSC, and for the last few years we have been delighted to take part in many different charity challenges.
"This includes regularly having a team of cyclists taking part in the Wolverhampton to Aberdovey bike ride, and the bi-annual Lord Bilston Big Challenge, put together by one of our fitness trainers Brendon, in memory of his Dad and former Wolverhampton MP, Lord Dennis Turner.
"Those challenges in memory of Dennis always raise money for Compton Care which is a charity close to so many of our members' hearts, and this year we have decided to select Compton as the beneficiary for the fundraising for our Aberdovey team.
"The charity does so much fantastic work for so many people when they need it most, and hopefully we can help them out a little bit by raising as much as we can.
"It is also a fantastic event to get involved in, to improve health and fitness and enjoy the togetherness of being part of a team, and we are all really looking forward to it."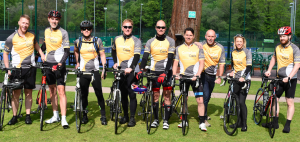 The Aberdovey Bike Ride is an annual event which has been running since 1992 to raise funds for local charities. It starts in Wolverhampton's West Park and those taking part will cycle across the Cambrian mountains to the Welsh coast before finishing at Aberdovey Yacht Club.
While most of the team will be covering just over 100 miles from Wolverhampton to Aberdovey, both Marc and WLTSC head of fitness Paul Fothergill are taking part in the four-day event, which includes cycling a total of 400 miles, leaving West Park and travelling around the Cotswolds before returning back to Wolverhampton in advance of joining the team on the June 21.
Sally Woods, Community Fundraiser for Compton, said: "The WLTSC team along with Brendon have always been fantastic supporters of Compton Care and always push themselves to the limit to help raise essential funds so that we can continue to care for local people living with complex and incurable illnesses.
"We are so grateful that so many members of the club have decided to take part in the Aberdovey Bike Ride this year and it's is fantastic that there is such a big team representing Compton Care.
"I would like to wish all of the riders from WLTSC the very best of luck for their ride on June 21!"
CLICK HERE to visit the fundraising pages of the WLTSC cyclists to make a donation.