Racketball is a sport which is growing in popularity and influence, as a very strong alternative, or addition, to tennis and squash.
And walking racketball is proving just as important down at WLTSC, as a great way for players to get back into healthy activity after an injury or absence from sport.
As explained by Patrick Hyde, chartered physiotherapist and director of Postural Health, who heads up the physiotherapy programme at WLTSC, there are many benefits to walking racketball.
Patrick says:  "There are so many people who think knee and hip pain excludes them from participating in racket sports.
"That is why we developed walking racketball, a non-competitive game of engagement and participation for all.
"This is especially important during the winter months when people need indoor sporting facilities."
Three members at WLTSC who have been enjoying walking racketball including coaching sessions with Sports Manager Marc Hughes are Alan Morgan, Roy Simms  and Peter Woodman.
Alan, who has always been very active both during his career as a PE teacher and then at WLTSC, has suffered from some health issues over the last couple of years, including undergoing surgery for a knee replacement.
"I played squash up until I was 50, every lunchtime for 20 years, and then switched to tennis having played as a schoolboy in Scunthorpe," says Alan.
"I have always been active, and carried on coaching tennis and badminton at S. Peter's School into my 60s, where I would be working with the pupils and improving them.
"I acted as mentor to a certain Paul Hodgetts, I'd be feeding him tennis balls to hit, but if he were still at the club the roles would be reversed now and he'd be feeding me!
"With my knee at the moment, after any exercise it tightens up and goes stiff, and I am still limping when running.
"I am having physio at New Cross, and hydrotherapy at Cannock, and I have found that walking racketball is helping with my movement.
"I don't have to move too far when playing, and having two, three or four bounces really helps.
"Hopefully all this exercise I am doing, including at home, and the physio, is going to help me get back and continue to improve."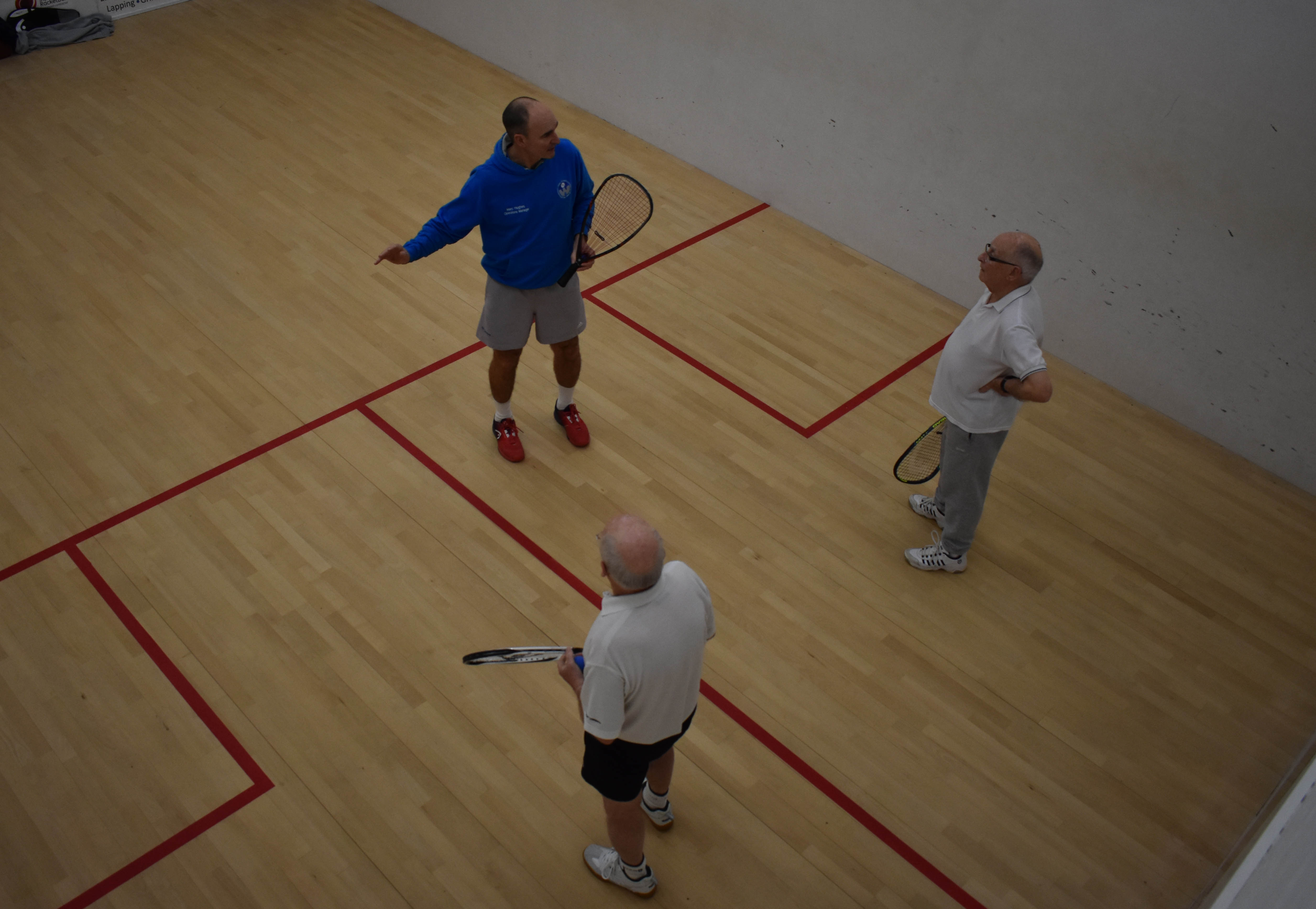 Roy has been playing walking racketball to improve his confidence and leg strength after suffering an injury.
Now a tennis player having previously been a regular at squash, Roy had been receiving treatment from Patrick after his leg collapsed on him.
"As well as the treatment from Patrick, and doing exercises at home, he recommended that I try walking racketball," said Roy.
"I've been hitting on the court with Alan, where we can rally with two or three bounces, and that is giving me confidence.
"The aim is to rehabilitate myself back into tennis, to get back to a situation where my leg is stable, and get back out on court when the weather is better."
For Peter, it is also about rebuilding confidence after undergoing two hip replacements after falling following the first surgery.
"I play both squash and tennis but I lost all confidence after what happened with my hip," he explains.
"The first surgery didn't work, but it's all fixed now.
"I lost a lot of confidence but walking racketball is helping me to get it back, and putting everything behind me to be able to get back to playing tennis."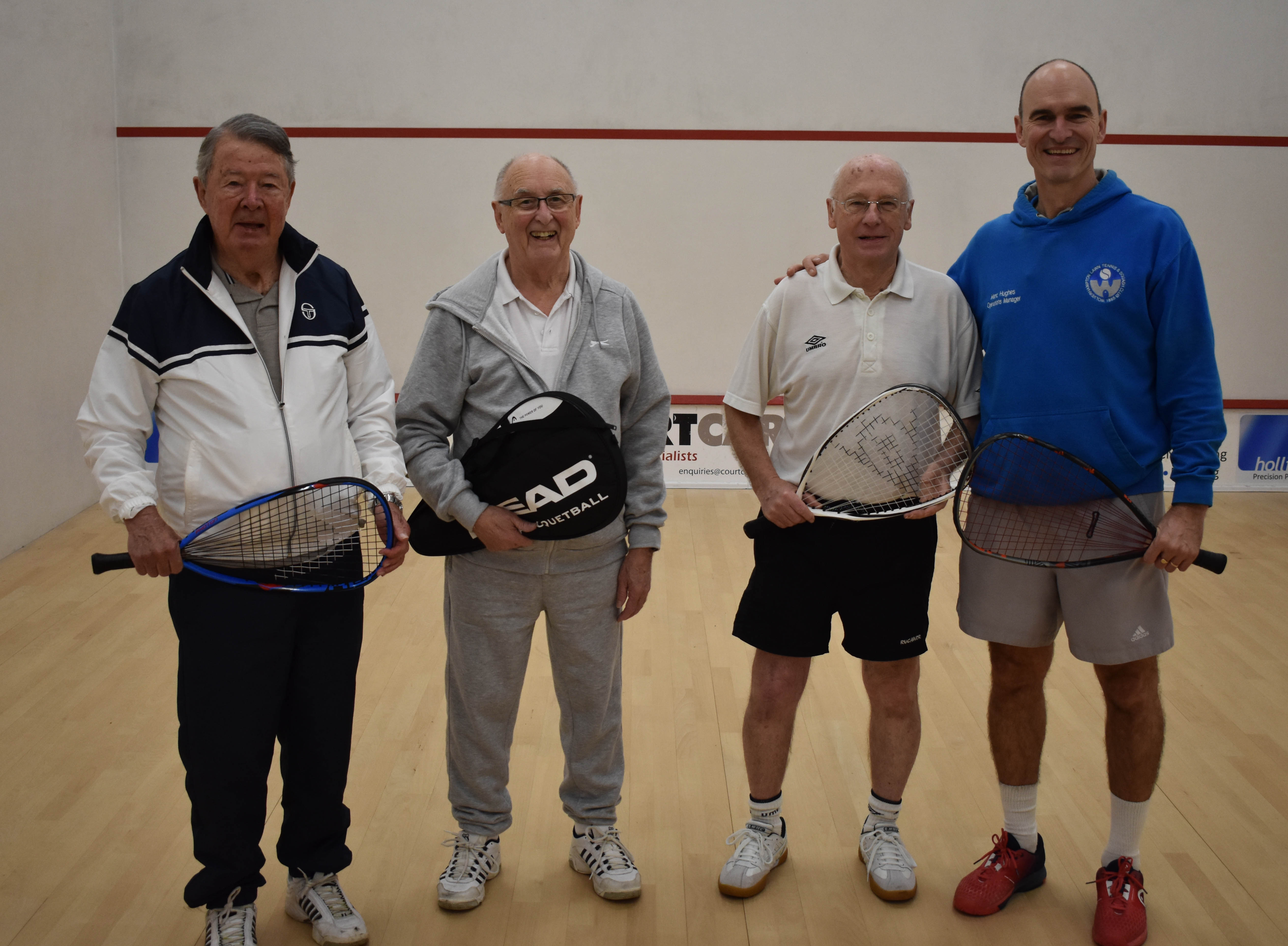 Marc is enjoying working with club members on the squash courts and helping them regain both their movement and confidence via walking racketball.
He says:  "Racketball, or Squash 57 as it is now known in the UK, is an excellent low impact and safe sport for anyone to have a go at.
"We use it at the club to help new members become better co-ordinated if they haven't played any racket sports before.
"We also now use Racketball to help longstanding members who are recovering from injury or illness to gain balance and confidence to play the racket sport of their choice.
"Racketball is one of the fastest growing sports in the country and we have seen a significant increase in participation of this fun and invigorating sport across all ages and abilities."
*Anyone interested in a teaser session of walking racketball can contact Marc via the WLTSC reception on (01902) 755265 or marc.hughes@wltsc.com
For advice on physiotherapy or details on booking a treatment contact Patrick or the Postural Health team on (01902) 581123 or at posturalhealth@aol.com