The pictures of the Duchess of Cambridge looking so fresh upon leaving hospital with son Louis just hours after giving birth not so long ago was probably the envy of new mothers everywhere.
For most new Mums, the battle to return to some sort of fitness and normality after giving birth can prove a real challenge, especially with a new set of relentless demands associated with the happy arrival!
But a group of Mums at Wolverhampton Lawn Tennis Club near Tettenhall have found an answer to that challenge in getting back to their 'pre baby body'.
What they are calling the 'Buggy Squad' training sessions, where their babies become part of the exercise rather than a troublesome distraction!
"I am a member at the club and exercise regularly here," says Dee Cooper, who came up with the idea for the sessions with WLTSC Head of Fitness Paul Fothergill.
"The other girls I had met at the NCT Ante Natal classes wanted to exercise and didn't feel they had anywhere to go – there are a lot of places you can go on your own, but not with your baby.
"I used to bring my twins to my personal training session with Paul and we had a chat about what we might be able to do and this session began.
"It started off as a bit of a trial, but the club have been really good with it and it has become a regular session which we all really enjoy.
"Our babies are all in an age range between five and seven months, and there is a mixture of some Mums who have exercised before and others who are starting from scratch."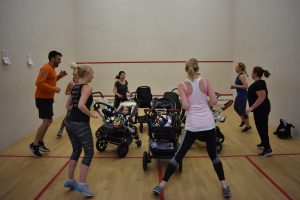 The babies become part of the hour-long session whether it is with various squats and stretches carried out whilst using the buggies for support, or indeed the babies themselves being used as part of the exercises!
"All of us want to try and get our figures back and feel good about ourselves and have a bit of 'us time'," adds Dee.
"But, with these sessions we can do it with our babies with us which is great, and we can all encourage each other.
"Sometimes the babies stay in their buggies, sometimes they come out and we get them involved or they get in the middle and play, and we are planning to use a disco ball so the lighting can keep them interested!
"We are sharing that time together, and then it is good socially as well with a spot of healthy lunch afterwards, and the sessions are getting tougher each week the more that we do."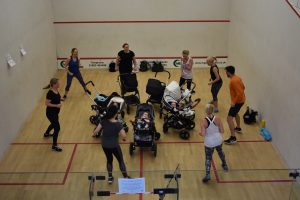 Paul, Head of Fitness at WLTSC with over 15 years' experience of personal training, added: "Some of the ladies are trying to regain their fitness, build on their 'pre baby body', or even start training for the first time.
"All of this takes place with the babies in the same space, and sometimes involved, and the 'Buggy Squad' are doing really well."