Wolverhampton Lawn Tennis & Squash Club are continuing to strengthen their links with the RAF after hosting another successful three-day squash course.
RAF employees from across the country enjoyed last week's event, which included time on court with WLTSC and RAF coaches each morning followed by competitive squash in the afternoons.
This is the latest in a series of courses in which WLTSC have linked up with the RAF, who are now planning to stage their annual championships at the Wolverhampton venue in 2019.
The RAF contingent was led by Peter Fletcher, who balances the 'day job' of his work as a Warrant Officer (Engineer) with the Joint Training Development Team with being a development squash coach within the force.
"I am involved with organising development squash for the RAF, as a few years ago we realised there was a bit of a gap," says Peter.
"There were fixtures and coaching events for the representative RAF squash teams, but there wasn't much in the way of opportunities for the recreational players to improve, other than playing matches between themselves whilst on station.
"We wanted to energise squash from the bottom, bringing in more coaches and building a coaching culture to lift RAF squash from the grass roots upwards.
"So we launched back in 2013 with a Festival of Squash, when 24 novices and club players came along, and since then the programme has flourished.
"We have now done a number of these courses at Wolverhampton, which is a great club with six courts which brings a lot of flexibility.
"And we always play during the daytime which hopefully helps as the majority of members here will be wanting to use the courts in the evenings.
"The mornings consist of some coaching both with club coaches and RAF coaches, to help build the players' levels and understanding of squash, followed by a tournament in the afternoon, usually box leagues, which filter the players into three different events based on ability.
"It all works really well, with everyone staying together at RAF Cosford, and being able to use the fantastic facilities that this club has in Wolverhampton."
The development courses cater for all abilities, as illustrated by a couple of the players we spoke to during their stay.
Richard Santamaria, a General Technician (Electrical) based at RAF Lossiemouth in Scotland, has reached the heights of the RAF squash team which recently returned from playing out in Boston in America, while Kathryn Prictor, an Intelligence Officer based at RAF Brize Norton in Oxfordshire, only seriously took up the sport in January of this year.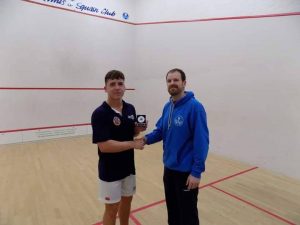 "My family have all played squash and so I got into the sport as I was growing up, and played a lot in Spain where I was brought up," says Richard.
"It is great to be able to keep that going working for the RAF, where we get to take part in a few training camps like this, and maybe five or six fixtures a year.
"Squash is a really good sport and is highly thought of within the RAF, not only for the obvious fitness benefits but also the competition and getting to meet new people."
Kathryn adds:  "I used to play squash casually when I was younger but only picked it up seriously in January thanks to a friend, who is also in the military.
"There are not too many women in the RAF who play squash, so you are very much encouraged with lots of coaching opportunities available.
"This is the first one of these development camps I have attended, and the coaching has been excellent for a really good mix of players of different abilities.
"It is a great sport for so many different reasons, and for me the aim is to keep improving and catching those players who are just ahead of me at the moment!"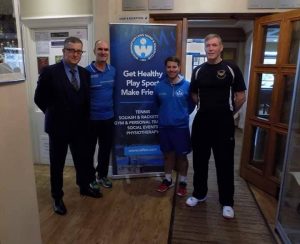 Peter echoes all the sentiments about the importance and benefits of a squash as a sport, both within the RAF and for civilians.
"It is a fantastic sport, and what we call a Category One sport, with a proper governing body and also a bit of funding available from the RAF to help with these events and running the fixtures," he adds.
"From the grass roots we can now see from every stage how we develop players, and at the top we have several elite athletes who are competing at national level.
"This link-up with Wolverhampton is also really important to us.
"Earlier in the year the club ran a Level One England Squash coaching course for us, which enabled us to generate 12 new RAF coaches, and in the evening we had a well-matched fixture against 12 club members, which was great.
"We are now planning to bring our annual squash championships to the club at some point in 2019, which is another event we are all looking forward to."