Fun and fitness are very much on the menu at Wolverhampton Lawn Tennis & Squash Club on Wednesday mornings with a weekly Dancersize class for Over-50s.
The long-running session was recently taken over by Tina Lloyd, and offers participants the chance to keep fit and healthy with a variety of different exercises.
"The fit4life sessions offer a dance-based workout for people over the age of 50," says Tina, who trained as a professional dancer at the Laban Centre in London.
"The aim is to follow a specialised program that focuses on maintaining health, fitness and mobility, whilst also having a lot of fun.
"It is great for health for both body and mind, a cardio-vascular workout which brings with it a range of different benefits to improve physical and mental health.
"The sessions can reduce blood pressure, improve balance and co-ordination, promote flexibility, and improve focus and memory.
"The session is also based around different conditions people may suffer as they get older, such as arthritis, and we can also adapt the exercises, so people only need to do what they are comfortable with.
"There are a range of dance routines that incorporate many styles including aerobics, line dancing, salsa and even Bollywood, and everyone attending has great fun trying them all out!"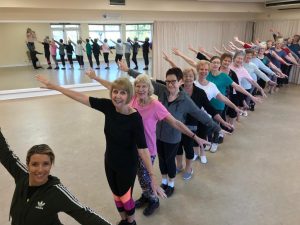 Another benefit is the sense of community which exists within the group, with a friendly and supportive atmosphere and everyone made to feel welcome.
"It is a very friendly and social group, and people stay on for a cup of tea and a chat afterwards," adds Tina.
"Some of the ladies have been attending for a very long time, and have been through life's ups and downs together.
"We have a mix of members and non-members, and everyone is made to feel very welcome when they come along.
"I am thoroughly enjoying the sessions, and the members of the class are an absolute pleasure to teach."
The session takes place from 9.30am-10.30am in the studio and new participants are always welcome.
Visit www.fit4lifeover50.co.uk for more details and contact Tina on (07850) 117321 or via email at fit4lifeover50@live.co.uk.