People from Wolverhampton are being encouraged to make the perfect 'Kick Start' to 2020 by joining an intensive week-long fitness and diet programme at Wolverhampton Lawn Tennis & Squash Club.
For the sixth time the System Energize team of personal trainers are leading programme, combining two fitness classes a day with a strict eating plan, all of which can be taken forward into the New Year.
The 2020 event runs from January 11-18, and costs £65 for members and £85 for non-members. (With an added cost is purchasing the meals from WLTSC).
"It is always a great week, with everyone supporting and pushing each other on towards an active and healthy start to the New Year," says Paul Fothergill, System Energize Head of Fitness.
"We put on two classes a day, one early in the morning and one in the evening, and have a book detailing an eating plan for the week and the meals are also available from the restaurant.
"Participants have their body analysis measured at the start and end of the week, and the average weight loss from those that take part is between four and eight pounds.
"The week of intensive exercise and clean eating purges the body of Christmas excesses and sets people on the right path for the new year whatever their goals.
"This is because whether people are aiming to lose weight, build muscle, a combination of both or just to feel a bit better, the 'System Energize Kick Start' enables good foundation for this, as the system is primed and ready to absorb more nutrients and is physically more responsive.
"Above all that it is also all about people getting into good habits of healthy eating and exercise, which they can then carry on with after the week is over."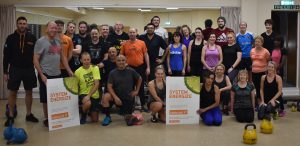 Two regulars at the System Energize de-tox programmes are Nigel Mynott and Hayley Hollingsworth.
"I think people take part in the detox for their own reasons and often very different reasons," said Nigel.
"Some people do it for weight loss, some people to gain fitness, and some to be part of a group working together.
"Whatever the reasons, it is always a rewarding week, and the effort and variation from the System Energize team is fantastic.
"They put on a really varied programme through all of the sessions, and their energy and leadership is great.
"It is an intense programme, and people do have dips during the week, but everyone pushes each other on and I think doing this every January is another really positive dimension for the club."
Hayley added: "My motivation is to improve my overall fitness and lower my body fat.
"I also enjoy it from a food point of view, as I get to learn new recipes which I can incorporate into daily diet after the detox has finished.
"Each year I try and take some new recipes which I can then use to stay fit and healthy.
"Taking part is a really positive start to the year and always gives me something to build on going forward."
To sign up for 'Kick Start 2020' contact Paul on (07825) 665794 or Brendon Turner on (07854) 006529.