A popular member of staff who is bidding farewell to Wolverhampton Lawn Tennis & Squash Club says she has made friends for life during her time at the club.
Lucie Atterbury has worked on the club's shop and reception for over a year, but leaves today to take up a new position at the Royal Institution of Chartered Surveyors in Birmingham.
"I have loved every minute of working here from start to finish," said Lucie.
"For a long time I wanted to be a nurse but without any funding for the University fees I had to think again and the opportunity at WLTSC gave me the chance to grow and I have learned so much.
"The people I have worked with have been great – with Andy (pictured) and Rose it has almost been a like a little family in the shop – and all the members have been lovely.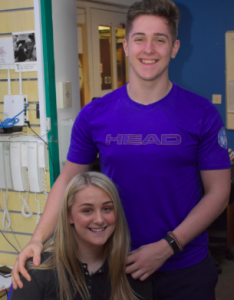 "I don't think I have had one bad experience, I have loved it and made friends for life.
"I will really miss it when I leave and am sure I will shed a tear."
Lucie has certainly been at the centre of plenty of the fun and games that accompany the hard work for all WLTSC, including the now infamous 'staff training' drill with Operations Manager Marc Hughes.
'Thirty cows in a field, and twenty-eight chickens….' You may know the rest!
"I definitely go away with some great memories, even with other people taking the mickey out of me," Lucie added.
"I will certainly keep in touch and be back in to see people whenever I can."
Everyone at WLTSC wishes Lucie all the very best for the future.