It was a great weekend of tennis, despite some inclement weather, with the spirit of WLTSC on show with all ages and abilities taking to the court.
Saturday saw the finale of weeks of competition in the Veterans Tournament, sponsored by Mercedes, with some great finals to bring the tournament, organised by Max Thomson, to its conclusion.
Marc Hughes clinched the Men's Singles event with victory over familiar foe Robin Chipperfield, while Jane Hatton was crowned Ladies Champion thanks to victory over Jo Birch.
Chipperfield exacted a bit of revenge in the Men's Doubles by partnering Stephen Giddings to victory against Hughes and Nigel Eastwood.
Catherine Grinsell and Gerry Davies were the victors in the Ladies Doubles by overcoming Hatton and Tracy Hook in the final, while Davies then teamed up with Adrian Watts for the Mixed Doubles final thanks to winning against Grinsell and Chipperfield.
There were also four plate competitions with Heather Hale winning both the Ladies and the Mixed with partners Aurelia Lendinez and Richard Down respectively.
Peter Langston claimed the Men's Singles plate while Down and Mike James won the doubles.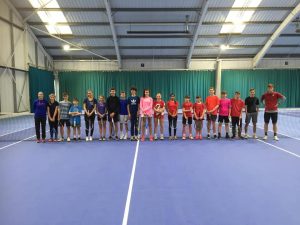 Then on Sunday it was the turn of the younger players to take to the courts for the annual Coaches Cup, organised by Simon Bird, Amber Quick and Tom Welch and sponsored by Patrick Hyde and Postural Health Ltd.
Sixteen juniors were divided into two teams of eight and competed in a number of singles and doubles matches to earn as many points as possible for their team.
It was a very close battle between the two teams with the Blue team, coached by Amber, just coming out on top against the Reds, coached by Tom.
The Coaches Cup is designed to create a team environment and allows the juniors to mix in and play both with and against other players who would not normally be in their usual coaching groups.