Have you heard the one about the lad from Halesowen who took on the reigning Wimbledon champion on a grass court?
That was the case for 19-year-old Tom Welsh recently, as he spent ten days as a 'hitting partner' at the Nature Valley Classic at Birmingham's Edgbaston Priory, taking to the court every day with some of the world's top female players.
Welsh, a county player and member of Wolverhampton Lawn Tennis & Squash Club, had a regular list of training partners which included current Wimbledon ladies singles champion Garbine Muguruza, whilst he also missed out on 2011 and 2014 champion Petra Kvitova through having to play his own match – for WLTSC!
"It was a fantastic experience," Welsh explains.
"It came about because the people who do the stringing on my rackets are the official stringers for the tournament at Priory.
"In advance of the tournament they were asked if they knew anybody who might be available as a hitting partner for the players – they put my name forward and I got the gig!
"I started hitting with players before the qualifying tournament, then the main draw players arrived, and then during the competition it was usually a lot of 45 to 60 minute warm-ups.
"I trained with Garbine a few times, Eugenie Bouchard, Magdalena Rybarikova, Daria Kasatkina, Donna Vekic…it was amazing."
Welsh, currently midway through two gap years ahead of studying for a tennis scholarship in America, had to cancel some shifts at Morrison's to ensure he was available.
It was certainly worth it!
"It was great to be around such top players and see how well they strike the ball and just see what they do and their different routines," he says.
"I was very nervous at first but once I realised I could live with them in the rallies I really began to enjoy it.
"And they have all been really lovely and smiley, happy to chat off court, just normal people who have reached the very top of what they do.
"Although once they started the practice you could see their concentration and how they really increased their focus as soon as they made one or two errors – they were right into game mode.
"What was even more surreal was that when I came off court I ended up signing a few autographs – I think the younger fans thought I was someone off the pro tour!"
Welsh returned to WLTSC after his Priory experience to take part in the annual Club Championships – the extent of his preparation almost seems unfair!  But perhaps it helped him through to the semi finals where he was within a point of defeating eventual Men's Champion Fin Cook.
"You don't get this sort of preparation every day," he says with a laugh.
"I really enjoy it at WLTSC, even though I used to have to travel for an hour and three quarters on the bus from Halesowen just to get there!
"There is a great competitive spirit at the club and a good depth of standard where there are probably eight or so players who could all turn out for the 'A' team."
Away from the court Welsh is also an accomplished singer and guitarist who has been known to take to the microphone at WLTSC events.
So did he serenade any of his illustrious hitting partners during his ten days at Birmingham?
"I was at the club from 7.30 in the morning till about 9 at night most days so unfortunately there wasn't enough time!" he replies. (Which might explain this photo – sorry Tom!)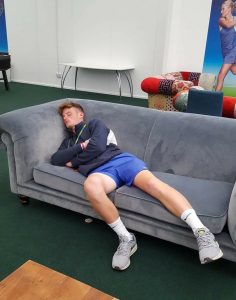 *Tom is (also) pictured preparing for a hit with Eugenie Bouchard.