This weekend sees the finals of the biggest tennis event in the WLTSC calendar – the Annual Howard Wright Club Championships.
After several weeks of competitive action across the club's many courts, the mixed doubles finals take place from 6.30pm this evening (Friday), followed by the remaining finals on Saturday from 12.30pm.
And once again, the club is indebted to the sponsorship of the championships by Howard Wright Ltd, whose long-term backing has played a key factor in the club's ongoing success.
"Howard Wright Ltd have sponsored Newbridge for over a decade, and we have seen the club grow and develop into what it is today," says Mike Richards, a member at WLTSC and Chairman at Howard Wright Ltd.
"We have continued to support the club through our annual sponsorship as we feel that what WLTSC provides to its members is a very special thing indeed.
"We hope to see the Club develop even further through projects in the future such as Fill the Gap and the many more on the horizon."
Howard Wright offer a variety of financial services and they compare clients looking after their financial wealth as being similar to looking after their physical health whilst taking part in sport at WLTSC.
"We at Howard Wright provide financial advice to our clients ensuring that they are best prepared at all stages of their lifetime, from pre-retirement to post-retirement," added Mike.
"We believe that keeping your finances in shape is just as important as keeping yourself in shape.
"Most people regularly exercise or do some sort of physical activity to keep themselves fit and healthy.
"So why don't people regularly check their finances? Just like you would go to the dentist or doctor to make sure you are fit and healthy.
"Our advisers could almost be seen as a personal trainer for our client's finances – once we have established what your objectives are, we then implement a plan for your finances.
"This is then regularly reviewed to monitor your performance and to ensure you are on track to meet your objectives."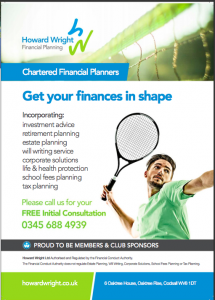 *Anyone wishing to check out how 'fit' their finances are is invited to book a free consultation with one of Howard Wright's Chartered Advisers.
They can be contacted on 0345 688493 or at enquiries@howardwright.co.uk
The website can be visited at www.howardwright.co.uk
SCHEDULE FOR SATURDAY'S FINALS