The WLTSC Warwickshire League Squash team have added another professional player to the ranks as they head into the second half of the season.
Twenty-five-year-old Jack Turney is former University colleague and current housemate of Miles Jenkins, the original new addition to the team thanks to some new sponsorship at the start of the season.
Turney has now also agreed to boost WLTSC's claims over the remainder of the season, and made his debut in Monday's 3-2 win at home to fourth-placed Kenilworth.
"it's great for me to be joining the team to play for Wolverhampton in the Warwickshire League," says Turney, currently ranked 274 on the PSA World Tour.
"I've played in the league before, for the University of Birmingham and Coventry & North Warwicks, and I know that, in this league, you get a really good match every week.
"I know that with Miles here Wolverhampton are really looking to push on, and hopefully I can help the team and we can climb the table in the second half of the season.
"I already know Miles and also Darren Lewis, who used to coach me when he was at Market Harborough back in the day.
"Allan Walton, the captain, was one of my lecturers at the University of Birmingham and we played in the first team there together, so it's good to see some familiar faces.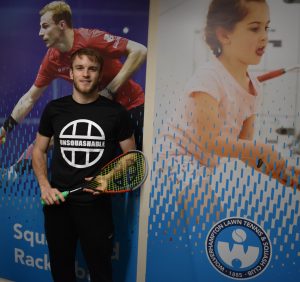 "I'm really looking forward to it."
Turney first started playing squash at the age of around 12 or 13, but it was at the University of Birmingham, where he completed a degree in Geology, that he "fell in love with the game".
"After I graduated I just thought that squash was too much of a good game and that I like it so much I wanted to try and turn professional," he adds.
"I just decided to give it a go, and that's what I'm doing at the moment.
"I'm getting out there playing on the PSA Tour, but getting involved in the Warwickshire League is also good for me, and will give me that challenge and experience to help me with my game."
Career highlights so far include reaching a couple of PSA Closed Satellite tournament finals, representing the University of Birmingham Lions in the Professional Squash League and winning the BUCS (British Universities and Colleges Sports) Gold during his time at University.
WLTSC has been actively encouraging more young people to get involved in playing squash and racketball, with plenty of success, so what advice would Turney give having been a teenage beginner himself over a decade ago.
"I really enjoy the fitness element of squash but to a junior player I would just say enjoy it, and get on court and play as much as you can.
"Play a lot of matches in practice as well, getting used to the different positions moving around the court, working on racket preparation and your length of shot.
"Above all else though it is about enjoying the sport first and foremost, which is exactly what I did and why I have gone on to play professionally since leaving University."
Thanks again go to the WLTSC's sponsors for this squash season – Viking Electrics, AL Aesthetics and K Becker.