It was back in 2001 that the Kings Court Dance Academy & School of Performing Arts first started using the facilities of Wolverhampton Lawn Tennis & Squash Club.
Nearly two decades on, KCDA is still as strong as ever, as is the relationship with WLTSC, and so many of the young dancers who first attended the school have gone on to achieve great things in the industry.
KDCA is run by Carla Day, with the help of her sister, Assistant Principal Amy Worthington.
"Nineteen years ago I had several opportunities to pursue my professional dancing career," Carla explains.
"However, my dream of opening a dancing school was a huge motivating force.
"In September 2000 I opened the doors to the Kings Court Dance Academy & School of Performing Arts (KCDA).
"With the help of my sister Amy, the school soon established itself as one of the leading dance schools in Wolverhampton.
"I originally opening the dance school at the King's School but soon realised that I needed somewhere that offered more flexibility and gave me room to expand.
"In 2001 I moved the school to the Wolverhampton Lawn Tennis & Squash Club where we have been ever since.
"We have a great relationship with the tennis club and it's fantastic to know that we have a regular facility to use."
For WLTSC members who see the pupils arrive and depart after their regular weekly sessions in the club's Studio, it will be pleasing to know that so many enjoy many successful achievements, both as part of KCDA and after they go on to further studies.
One such student, who first started attending KCDA at the age of four, is now studying a BA (Hons) degree in musical theatre at Millennium Performing Art.
"Carla and Amy pushed me and believed in me when I found it hard to believe in myself and I will be eternally grateful," she said.
"Not only is the teaching amazing but the family environment meant that I have made lifelong friends who I have the best memories with.
"KCDA will always hold a place in my heart and I can't thank everyone enough for all of the support I have received over the years."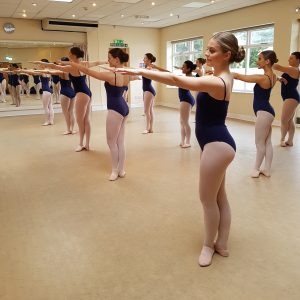 Carla adds:  "We have watched enthusiastic youngsters develop into young adults whilst also becoming talented performers.
"Many of our students have continued their training at top stage schools enabling them to work in the industry and follow their dreams.
"All our pupils are a pleasure to teach and they always immerse themselves into every lesson."
*KDCA offer lessons in Ballet, Tap, Modern, Lyrical, Acrobatics and Pointe to students of all ages and abilities. The school's dance syllabus prepares pupils for examinations and national competitions, whilst the eagerly anticipated theatrical productions provide a showcase for pupil's talents. For more information telephone (07854) 443617, email carla@kcda.co.uk or visit www.kcda.co.uk
*Anyone else interested in using WLTSC's facilities for external activities, or the club's corporate training room, contact the club on (01902) 755265 or email club@wltsc.com