The team from WLTSC which took on this year's Lord Bilston's Big Challenge have handed over a cheque for over £13,500 to the Compton Care charity.
And now, after this the third challenge led by WLTSC Personal Trainer Brendon Turner in memory of his father Dennis, an incredible total of over £77,000 has been raised for the charity by the Lord Bilston team.
This year's challenge, which took place in July, was their most extreme to date with 18 friends forming the team which 'Carried the Load' and transported two members of staff from Compton Care a total of 140 miles across land and sea.
The group carried Compton Care Nurse Specialist Debbie Smith and Marketing Manager Grace Lee from Swansea to Wolverhampton on the back of a tandem bike, in a stretcher and in a canoe in a gruelling challenge that lasted 25.5 hours.
Brendon was inspired to take on and lead theses challenge in honour of his late father, Lord Bilston Dennis Turner, who received support from Compton Care following his cancer diagnosis in 2014.
Brendon said: "We know the staff at Compton do fantastic work caring for people who have been diagnosed with an incurable illness. They carry a load for so many people at their most stressful and sad times, which can be really difficult, so on this occasion we wanted to 'Carry the Load' for them.
"I am just keeping my Dad's memory alive in a positive way, whilst at the same time helping out a really caring and important charity."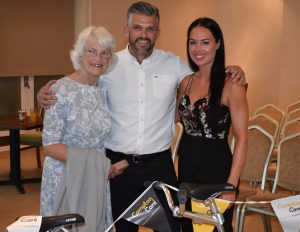 In a special celebration event held on Saturday at the club, Brendon made the announcement of this year's fundraising total.
Grace Lee, who attended to officially receive the cheque, said:  "This is a truly incredible amount which will change the lives of so many local people.
"This amount will fund the equivalent of 119 patients receiving personal care and support in their own homes.
"Since starting their fundraising journey in 2014 the dedicated group have now raised over £77,000 for Compton.
"We cannot thank the challenge team enough for what they have done for our Compton.
"We simply would not exist were it not for groups of people like this who choose to give up their time and their money to ensure that local people who are living with incurable conditions are able to access the care and support they need and deserve."
Click here to view a video produced from the challenge by Morgan Visual Media.