Three years ago Jason and Sally Mansell had never set foot inside Wolverhampton Lawn Tennis & Squash Club.
Now they just can't keep away!
From Monday to Friday, and most of Saturday too, one or both of the Mansells can be found at WLTSC, whether on the tennis court or in the gym.
Yes the gym is Sally, just in case anyone was wondering.
But the example of the happy sporting couple shows the benefits of what a warm and welcoming club can offer not only in terms of the activities available but also a friendly and vibrant atmosphere.
"One of my closest friends – Mary James – had been suggesting we join the club for ages," says Sally.
"We were happy enough going to Esporta – I'd do the classes and Jason would use the gym & go swimming.
"Eventually we decided to come along, and we absolutely loved it right from the start.
"It wasn't just the sport, it was the social side, and we have made so many new friends."
It was exactly the same for Jason, who was delighted to take up tennis again, a sport he had not played since he was in short trousers (or perhaps a skirt, as those who have seen THAT photograph will testify).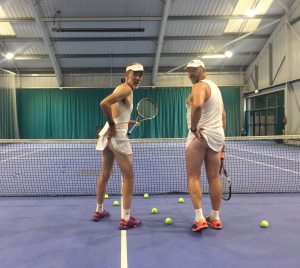 "Sally bought me some lessons at the start, and I still have lessons now,  and I absolutely love it," he says.
"It has been great to play competitively, and also for fun, and to improve my technique and work on different things.
"Sally had never played tennis before and didn't really have a massive interest, but once she stepped on court she really got into it.
"And as she says, it is also about the social side here as well."
Jason was a member of a golf club and while he managed to find four or five people who he could have a game with, not many others would bother and most of the time he just played and came away.
"Here it is completely different," he added.
"As a new member, when you step into a club you want people to come and say hello and ask if you want a game, and that has happened here from Day One."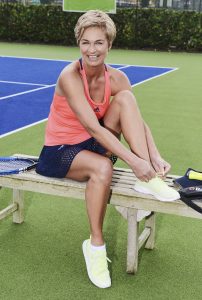 "There has always been a really welcoming atmosphere, from the time we started with Rusty Rackets and then the mix-ins," says Sally.
"I have even joined a team playing in the leagues, which takes it to another level.
"It is great to be able to play socially, but also you want to win as well!"
Jason has also been made captain of the Mens' 'G' team, where a desire to do well and win matches is again balanced against ensuring it is also fun and enjoyable.
"As the lowest ranked team at the club, it means I have a pick of a lot of the members," he explains.
"The camaraderie in the team is fantastic, and we even have a social committee now deciding what events we are going to do.
"Last year we hired a minibus and took our other halves to Birmingham for a meal and then a night of dancing at the Jam House – it was a brilliant night!"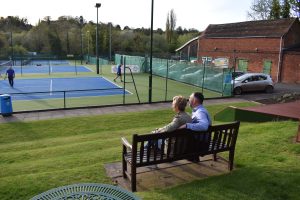 Jason and Sally have also found the right balance in terms of how often they play together as a mixed doubles pairing on court, and then playing with other people as well.
For Jason it is always mainly tennis, while Sally matches her newly-found favoured racket sport with pilates and circuit training.
"We will play together maybe two to three times a week and then on the other occasions we are playing with other people," says Sally.
"We get on fine when we are playing, I think there has only ever been one match when we got a bit fractious with each other!
"But we enjoy it, and it is sociable, and we are playing to try and do well but mainly to have fun."
For the Mansells, it is now difficult to remember what life was like for them pre-WLTSC!
"We have gone from not having a social membership anywhere to being at the club most nights," says Jason.
"We also try and support the social events, whether by organising a table or being invited onto a table.
"It has really taken over our lives….in a great way!
"Our only wish is that we had joined the club a few years earlier – when we could run about a bit more!"