A 36-year old man from Shropshire is indebted to the sport of racketball for boosting his rehabilitation from a life-threatening brain aneurysm.
Mark Cooper suffered the aneurysm and a heavy bleed on the brain in June, 2015, and spent a month in a coma in the critical care unit at Birmingham's Queen Elizabeth Hospital. After almost two months at the Queen Elizabeth Hospital in total, Mark was transferred to the West Park Rehabilitation Unit in Wolverhampton where he had to relearn numerous skills, such as walking and talking, all over again.
Fortunately Mark survived, but he struggled to recover from the lasting damage of the serious brain injury, until that is he started playing racketball, receiving one-to-one coaching at Wolverhampton Lawn Tennis and Squash Club in Newbridge.
"Mark was having some sessions with our physio Patrick Hyde, but he wasn't too keen on the gym sessions as he wanted to do something different and more stimulating, so Patrick referred him to me," says Matt McFahn, Head of Squash and Racketball at WLTSC.
"He wanted something to challenge him, so he had a go at racketball, and straightaway he loved it.
"When he first started two years ago, we were using a really bouncy ball and playing off two bounces, but we have progressed to using a less bouncy ball, and one bounce, and he has risen to every challenge.
"I have seen a massive improvement to his co-ordination, concentration and mobility, and he is now far more relaxed in his movement.
"There was one significant development not so long ago, as even with his progress, and even though he was enjoying it, he hadn't really showed any emotional involvement in the game.
"I played a flukey shot, and he cursed me, and that was the first time I'd really seen a reaction.
"From there I have seen a huge change in Mark's emotional and social skills and it has not just been about racketball or skill development."
Mark echoes Matt's sentiments about the competitive element of their weekly sessions, in particularly recently, when he beat him!
"That was a case of when the student becomes the master," he says with a laugh.
"From the moment I started playing racketball, I really enjoyed it and I can feel the progress I have made.
"I had played a bit of golf occasionally before I was taken ill but now it is racketball all the way and I don't think I would ever give it up.
"Looking back to what happened to me, it isn't something I remember too much about and it certainly isn't something I like to dwell on.
"But as part of my recovery this has been a great help for me, and I count down the days to when I can come and play."
Mark has a degree in Environmental Management from Aberystwyth University, and was working as a self-employed fencing contractor prior to being taken ill.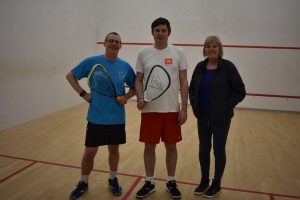 A hugely difficult time for all of his family, for Mum Dee, brother Charlie, and sister Andrea, for all of them, his gradual recovery has been great to see.
"When Mark first started about two years ago he struggled to get around the court and was very stagnant" says Dee.
"But he has made substantial progress and built up a great rapport with Matt, and it has made such a difference in so many different aspects.
"When Mark first started playing racketball, I would never have been able to envisage how he is now – the progress he has made is amazing. We will be forever indebted to Matt and WLTSC."
Good luck to Matt McFahn, who has moved on from the club to take on a new challenge.  Everyone at WLTSC wishes him well!