It is Friday evening, 6.30pm, on the tennis courts at West Park not far from Wolverhampton City Centre.
The summer heatwave has taken something of a pause, and there is even a whiff of moisture in the air.
Even so, the two end courts of the Park's public tennis facility are packed full of people, diverse in age and ability, but sharing the desire to hit some tennis balls. And also, perhaps more importantly, have some fun!
This is Community Tennis in action, the programme run by Wolverhampton Lawn Tennis & Squash Club to take the sport beyond the environs of their attractive Newbridge Crescent facility.
The man in charge, leading this free family session for anyone who wishes to take part, is WLTSC Community Tennis Co-ordinator Clayton Edge.
"Over the last 12 to 18 months we have tried different approaches to really get tennis going out and about in the community," says Clayton, also a hugely successful exponent of touchtennis, a modified version of the sport involving a smaller court and foam balls.
"We have different sites, at Aldersley, and here at West Park, where we have been trialling some free family tennis this summer which has been going really well.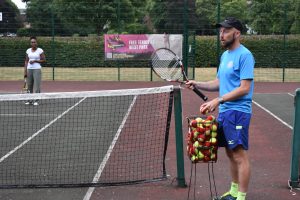 "It is all about trying to get out there and get people engaged in playing tennis and having fun playing tennis.
"There have been one or two success stories, like a girl who started out at one of these sessions and went on to be British Number One at Under-12 level.
"But it is aimed at mass participation, playing some fun games and also cardio tennis where people are able to enjoy a healthy workout."
Paul Hodgetts, Everypoint Racket Manager at WLTSC, echoes those sentiments.
"We receive funding from the LTA which allows us to go out and put coaching sessions on wherever we can run them," he explains.
"We've done West Park and Aldersley, we have gone out into schools, and you can even pitch up at supermarkets or the Mander Centre when the weather is nice and just put up a mini-tennis court and net.
"it is just about trying to encourage people to return to tennis, or pick up a racket again, getting more footfall and trying to grow the sport anywhere we can."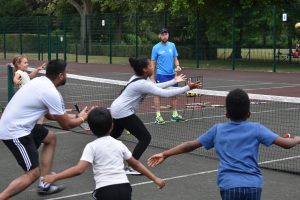 It is no surprise that WLTSC are aiming to get out and about in Wolverhampton and beyond.
They have also been selected by the LTA to spearhead a Community Tennis Network including other local clubs and schools.
Other initiatives are also being added in all the time, including the Tennis for Free charity becoming involved.
Tennis for Free also work in partnership with clubs, schools and local authorities, to provide access to community tennis courts and also coach-led sessions.
"Tennis for Free are also keen to get involved with us and that is something which will add to our community programme," says Clayton.
"There is no real commercial aim with it and the sessions are open to all but if you can get numbers up, you never know – one or two really good players might push on and develop.
"It is a great challenge as a coach to work with players of all abilities, children and adults, and rewarding to see how they develop.
"And it is an important part of what WLTSC are looking to do in terms of getting tennis out to as many sections of the community as possible."
As with everything, the proof is always in the pudding, so what do the players themselves actually think?
Step forward Chris Twardowski, who has not only brought his six-year-old daughter Naeva to the West Park session, but also his niece and nephew as well.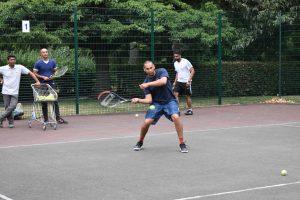 "I got to hear about this by first walking past a session Clayton was doing in Walsall," he says.
"And this session is perfect, because, as a family session, I can get involved as well.
"It is a sport that we can play together, and also get a bit of coaching and get better!"
And with that the players are all back on court, getting fit, getting healthy, playing tennis and having fun…you only need a court and a net!