The Wimbledon finals will be taking place this weekend with a set of delighted champions toasting their success on the lawns of SW19.
But for patients at Compton Care, their own Wimbledon final came a few days early thanks to a visit from members of the Wolverhampton Lawn Tennis & Squash Club.
The club's Operations Manager Marc Hughes, tennis committee member Karen Fletcher, and young players Tom Watson and Oscar Searle – both Sixth Formers at nearby S. Peters Collegiate School – set up a tennis court on the lawns of Compton Hall and played an exhibition match for patients who sat courtside while enjoying their strawberries and cream.
Patients from the Day Therapies Centre at Compton, including tennis fans Sheila and Jean, also took the opportunity to hit a few volleys under the watchful eye of the WLTSC team.
"I can't believe I'm playing tennis – how fantastic!" said Jean.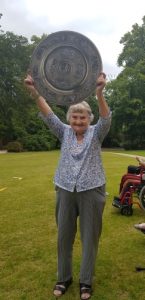 The idea was the brainchild of Compton Care's PR and Marketing Manager Grace Lee.
"It was with the help of Marc and everyone from WLTSC that we were able to bring the idea to life, and the patients had a fantastic time," said Grace.
"It was wonderful to see the patients participating, and picking up some of the basics of the game, seeing Jean getting involved and then Sheila playing the sport she used to love was very moving.
"Here at Compton we are committed to giving our patients the very best experiences, and, for one afternoon, we brought 'Compledon' onto the grounds and they were able to enjoy an afternoon of tennis."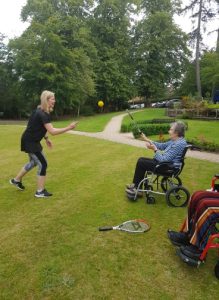 WLTSC have supported Compton Care with several fundraising challenges in recent years, including the epic Lord Bilston Big Challenge last year, and the Aberdovey Bike Ride last month.
Marc added:  "If the patients couldn't make it to Wimbledon, then we were definitely going to make sure we brought Wimbledon to them!
"Compton Care holds a very special place in a lot of our members' hearts, and we were so pleased to be invited to be part of such a special day."