The relationship between Wolverhampton Lawn Tennis & Squash Club and the RAF continues to go from strength to strength after a 'Tennis For All' coaching day was staged at the club.
WLTSC already regularly welcomes the elite from RAF tennis and squash to use their facilities for coaching, most recently hosting a week-long training camp to help the 'A' tennis team prepare for the Inter Services Championships. The benefits were proved with the RAF Ladies winning the tournament, defeating very strong Royal Navy and Army opponents.
And last week at the club, it was the turn of beginners and those developing their game to come from various parts of the country to enjoy a day of tennis at WLTSC.
WLTSC Operations Manager Marc Hughes, and coaches Amber Quick and Clayton Edge took 18 players through a series of coaching drills before some fun competition in the afternoon and advice on tactics and sports psychology.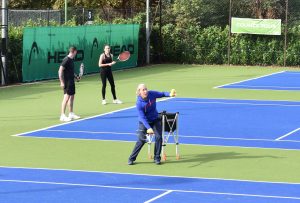 "We are really trying to increase the interest in tennis at grass roots level, getting people involved in RAF Tennis who have maybe never picked up a racket before along with those who have played a little bit."
The words of RAF Tennis' Director of Participation Lauren Odell, a Flight Sergeant Nurse based at the Royal Centre for Defence Medicine at Birmingham's Queen Elizabeth Hospital.
"It is called 'Tennis For All', because basically it is aimed at everyone, and what's good is that it involves so many different ranks and trades from the RAF.
"People of different standards come along to enjoy the experience and get some training, as well as the social side, and we have four of these events planned for next year across various parts of the country.
"All of the sessions are based around the same format, with some coaching and competition, and it was good in Wolverhampton to try out some touchtennis as well as pick up some tips and information around sports psychology as well."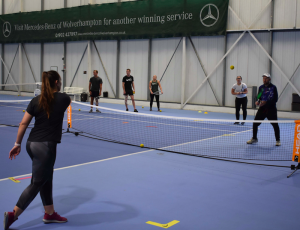 "The day went really well," added Michael Chapman, Assistant Director of Participation and a  Corporal on the Tactical Medical Wing based at Brize Norton.
"The set-up at Wolverhampton is really good – they look after us really well and the coaching was excellent.
"There are so many benefits of sport within the RAF, with fitness being the obvious one not to mention teamwork.
"These days are always important for that, and it's good to see some new faces as well."
Squadron Leader Simon Baker, treasurer with RAF Tennis and an Engineering Officer with the Ministry of Defence at Abbey Wood, also says there is the chance for players who show promise to progress through the system.
"Players can start out with days like these at the grass roots level, but from there they can progress right to the very top if they have the talent," he said.
"They can move through the development squad to the 'B' squad, and then up to the 'A' squad, which represents the RAF at the Inter-Services competition."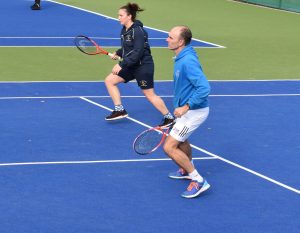 Marc said it was once again a pleasure for WLTSC to host the RAF.
"We always enjoy linking up with the RAF, both for tennis and squash, and it is great to see so many players getting a taste of sport at different levels," he said.
"It is a relationship we have forged over several years now, and one we hope to continue to strengthen going forward in the future."