A number of youngsters have enjoyed their first taste of tennis thanks to attending a six-week course at WLTSC, organised as part of the LTA's Tennis For Kids initiative.
Clayton Edge, community coach at WLTSC and a leading player on the touchtennis tour, led the course which has ignited interest in the sport for a group four to 11-year-olds.
"We've had a great six weeks course, which teaches all the basics of tennis right from the start so it is ideal for young people who have never played the sport before," says Clayton.
"It is a really worthwhile initiative from the LTA, and, for the course fee, the players all receive their first ever racket, a set of tennis balls and a personalised t-shirt.
"The course is run on a structured basis, covering many different aspects of the game, and the young players have all enjoyed themselves and, by the end of the six weeks, are now able to hit the ball and, in many cases, hold their own in a rally.
"Hopefully, it has sparked an interest that they may want to continue, and the club have been great in putting on another six-week coaching course at a very reasonable rate for anyone who wishes to keep going.
"Ultimately we all want more and more people playing tennis, and keeping fit and healthy, and the Tennis for Kids courses are a great step for anyone wishing to get on that ladder."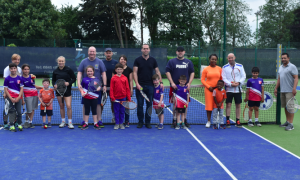 Martin Bowden is a newcomer to WLTSC, having brought his sons Archie and Edison along to the course.
"I heard about Tennis for Kids from a friend who had seen it mentioned on the internet so thought I would bring the lads along," said Martin.
"It their first taste of tennis, and they have really enjoyed it, so hopefully it is a good start for them.
"They have also started talking about tennis away from the sessions as well, and have been very interested in Wimbledon."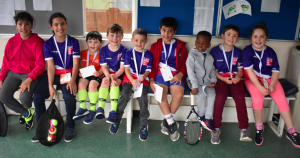 Participants are given a sticker for each week in which they complete the course, as well as some fun 'homework' to complete between sessions.
The next six-week course for beginners will also get underway on Saturday, July 20th, with limited places still available.
The cost is £25, which includes participants receiving a racket, set of tennis balls and personalised t-shirt.
Click here to book a child's place on the course, which takes place at 12pm on six Saturdays starting next week (July 20th).