WLTSC has a special offer in place for family memberships, trying to build up the number of families who can come and make use of the club's facilities.  One family who have been members for several years and enjoyed a particularly successful Club Championships this summer, are the Fletchers! So here it is, a conversation with the Family Fletcher! On a Friday. Fantastic!
First of all, how did you all first get into tennis?
KAREN: I have been a member on probably three separate occasions.  First of all when I was about 20, in the days when you needed to be proposed and seconded. I was then put off a bit after being walloped in the club championships by a very young Amber Quick! I joined again around the year 2000 with Mark after the indoor courts had been built.  If that tallies properly! I stopped a few years later and then joined again in 2009 with Alison Birkett. And have managed to stay this time!
MARK: I remember joining and having a bit of a decent run through the club championships not long after, right from the bottom rung upwards!  Halycon days. I must be a natural.  I had played a bit of tennis as a kid when my sister Lynn was at the Girls High school. She was given the key to their courts to practice as she was in the team and as a family we'd all go and have a game. Newbridge was my first club though.
ROSS: Apparently I started when I was two-years-old, being coached by Simon Fellows. And then also after that Pete Brown and Paul (Hodgetts).   I had my third birthday at a Saturday morning squad.  I did a couple of squads a week and then, from about Year Six, I probably started taking it more seriously.
ALEX: I think I was probably not long after Mum came back to join.  I went through all the squads from Mini-Red and I remember going to the Everypoint launch days.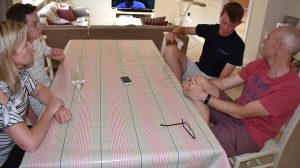 How did your tennis develop once you had become members?
KAREN: In the early days, before the kids came along, we'd both go along to the Monday night mix-ins.
MARK: Yes, that was a good way of meeting new people when we were new to the club.
KAREN: We actually met Clo and Seb from France, who we became very close friends with.  After one random conversation at the mix-in, we became friends for life! I think that social aspect is important.  Particularly over the last few years I think there has been a big influx on the social side where people will use the club for social activities or have a drink after playing.
MARK: After a while I started playing with the WETS (Wednesday Evening Tennis Society) on, as the name suggests, a Wednesday night. We have a few games of doubles and then a drink after. Then on to team tennis. I played team tennis with Ross, starting with the D team and then the C team.  Now Ross has moved up to the B team I am taking a bit of a break from team tennis. But the club has been very good for the lads, in terms of coming up through the junior programme.
ROSS: Yes I have really enjoyed all the way through the club and going on to play for the teams.  It is great that I don't just play with or against people of my own age but also far more experienced players as well. I also did well at the Road To Wimbledon in 2014, getting all the way to Wimbledon for the finals. Paul (Hodgetts) came down to watch me which was great.
ALEX: I enjoy playing and managed to win a couple of tournaments this year, a singles event in the juniors and then with Dad in the Club Championships.   I have done the trip to Torquay for the last two years as well.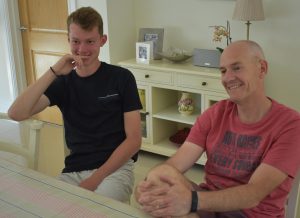 Mentioning the Team Tennis Mark and Ross, what is that like, playing together to represent the club?
ROSS: I think there was only once we fell out on court!
MARK: That wasn't in a team match!  We've generally been really good when we have been involved in team matches.
ROSS: And we have a really good record playing together as well.  I think we have only lost twice in about 20 rubbers.
MARK: It was worse when we played against each other. We enjoy far better relations when we play on the same team!  It was after I lost an FA Cup game with Nigel Eastwood against Ross and Greg Bennett that I once broke a racket in annoyance.  That never happened when we were on the same side of the net.
ROSS: I don't think Dad was too happy with that.
So it is better when you are on the same side, rather than against each other?
MARK: I think so. Although we have been on the court as a four a fair few times and that has gone o-k.
KAREN: As the kids have progressed the partnerships have had to change quite a bit to try and keep it competitive!
MARK: There are some very different personalities on court.  Alex is known for a laid back approach….
KAREN: …and keeping his hoodie on whatever the temperature.
ALEX: It is my favourite sport though.  I used to play football but now it's tennis all the way. I've specialised!  I also help out with the mini-reds coaching which I really enjoy as well.
ROSS: Alex is probably bit calmer on the court than me!
This year's Club Championships Finals Day then. Discuss….
MARK: Well we have all played together at different stages in the Club Championships. I have played in doubles with Karen, Ross and Alex. I have managed to win silverware with Ross and Alex but not…I'd better leave it there.
ALEX: We all won, but Mom lost!
KAREN: It was the first time I have got anywhere near to be honest. And it was a good game in the final!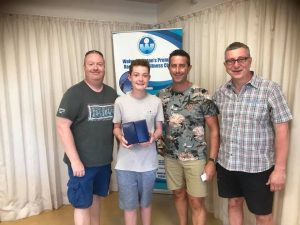 Was there any mickey-taking afterwards directed at Mrs Fletcher?
ALEX: Of course not, we are a caring family!
KAREN: I think they were all oblivious. At one stage all three of us were on court at the same time.
All in all, how much do you all enjoy your activities at WLTSC?
KAREN: Very much so. We have a long connection with the club. Both Ross and Alex were delivered by Jag Samra, and both had their christenings at the club!
ROSS:  I ended up playing a team match with Jag as well at the Albert. And we won both our games!
MARK: It is good that we live fairly close now as well.  I enjoy it. I have dabbled a little bit with squash and racketball but it's mainly tennis and the gym.
KAREN: We have also got involved in other areas of the club as well. I remember helping to arrange to get an Olympic torch to the club in 2012.
MARK: I think you will find that was from Andy Steele, a friend of mine.
ROSS: Well I bought a chess board into the club….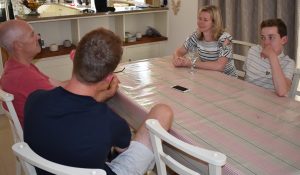 O-k o-k, a bit of fun to finish. First of all, who do you most enjoy playing against at the club?
ROSS: It's got to be Dad. Gives me a good game. As long as I don't hit it to his backhand.  And we can both cycle there together.
ALEX:  I enjoyed our doubles game against Jason Mansell and Greg Davies. That was good fun.
MARK: I like playing against Adrian Watts as we always have a good game.  There is a nice bit of good and fun history between us especially the one time I had a migraine in a club championships game.
KAREN: I enjoy playing in the club championships with Suzanne Davies, getting to the final this year as mentioned!   And then my regular Thursday morning four with Ally Birkett – nine years on – Cheryl Guy and Sue Towler.
And, still for fun, who do you not like playing against so much?!
ROSS:  Tom Watson! He just talks to everyone throughout the game. So we are constantly interrupted.
KAREN: It was more what I was dreading happening. One year it looked like me and Mark were going to face Ross and his partner in a Mixed Doubles final. I wouldn't have looked forward to that. But we lost in the semi finals!
ALEX: No one really. I am quite laid back!  Maybe Ross…
MARK: Yes I would have to say Ross. Only because he can now beat me fairly comfortably!
Thanks to the family Fletcher for their time. And a reminder that Family Memberships are available for two adults and children under-18 living at the same address. A monthly Direct Debit is also available. Click here for more details, or alternatively call (01902) 755265 or email club@wltsc.com.