The squash courts at WLTSC were a hive of activity last weekend as 200 players took part in the West of England Squash Masters.
And there was something for the home crowd to cheer on Finals Day as Darren Lewis powered to victory in the Men's' Over-35s competition.  More from Darren later!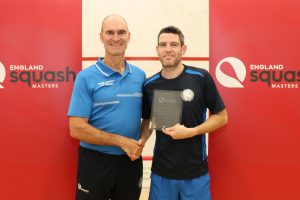 Overall the squash provided a fantastic spectacle as one of the regional Masters events returned to the club after several years' absence, attracting an entry list of 181, understood to be one of the largest ever.
Players flocked to WLTSC from as far afield as Cornwall and Cumbria with competitions ranging from Over-35s to Over-75s, as well as plate events for any first round losers.
"This is the first of five regional Masters we run in the season," said Jonathan Gliddon, Chairman of England Squash Masters.
"In addition to that we have the National Closed and British Open events, as well as Home Internationals, for which ranking points from the Masters decide who makes the team.
"I have been to WLTSC to play before, and the courts here are in great condition and the facilities are superb.
"There was a big entry which is a challenge for scheduling but also a positive and the tournament went really well.
"It is very busy and very competitive with lots of talented players and some great squash, but also an atmosphere of friendly rivalry as well."
Of those competitors we caught up with two in particular with good stories to tell.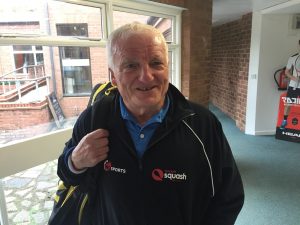 Adrian Wright, who ended up as Men's Over-75s winner, a previous four-times World Champion, and Masambo Selisho, a former professional from Manchester who was making his comeback.
Adrian, whose claim to fame is beating Jonah Barrington in one of his early veterans' battles, only started playing squash in his 30s, but has enjoyed immense success through the Masters' age groups.
He has a collection of 13 British titles, open and closed, as well as the four World titles, and has also captained England for 17 years whilst moving up the age categories.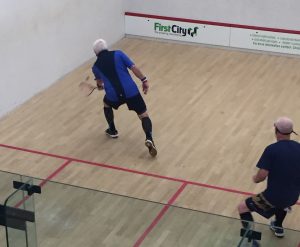 "Never did I think when I took up squash that I would enjoy this success," says the 77-year-old from Derby.
"I still really enjoy it, and coming to Wolverhampton is good as there isn't too much travelling involved!
"Sometimes things happen that make you realise how lucky you are to be alive and running around on a squash court."
For Masambo, making progress to the final of the Men's Over-45s was an impressive performance after several years off the circuit through injury, before being edged out 3-1 by Paul Boyle in the final.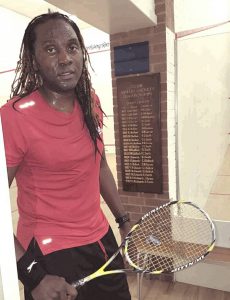 "I have been off the scene for quite some time with nasty injuries and knee surgeries and this was my first Masters since 2015," said Masambo.
"I had been in training for two months before the event and I was here to compete and have a really good go.
"Squash is such a great sport to play with the fitness and health benefits and burning so many calories.
"And the competition brings out the best in me.
"I have really enjoyed coming back to Wolverhampton, the last time I was here was 2003 and I think the facilities have really improved.
"Everybody was really friendly and welcoming and there was a good and competitive spirit about the competition, even when I beat Aleks (Stojanovics), a local player, in my first round!"
The way WLTSC members helped out over the weekend was also shown by Andy Hepworth going beyond the call of duty to give Masambo a lift back to his accommodation after his epic Friday night tussle!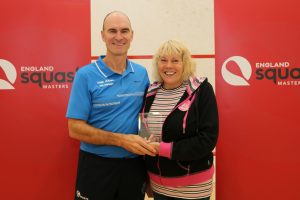 And, talking of WLTSC, there was a great array of 'home' players in action over the weekend, including, fittingly in Women's Squash Week, the female contingent.
Cathy Grinsell finished as runner-up in the Ladies Over-60/65s, while Elaine Radcliffe made it to the final of the Over 35/40s Plate.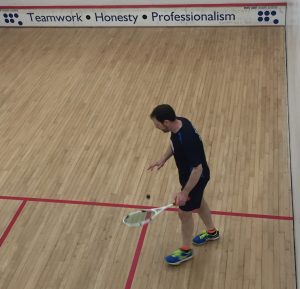 In the Men's section Head of Squash & Racketball Chris Dawson was a beaten finalist in the Men's Over 40s Plate, before Darren made it a successful finale with his 3-0 victory against Jamie Goodrich.
"I really enjoyed playing in the event at my home club in front of all of the club members who turned up to support, and it was nice to win the competition," said Darren.
"There were a lot of members that had come along to watch which was great to see and made me nice and relaxed in my matches which always helps.
"It was a really good tournament with 181 entries which was fantastic.
"Our club has top quality squash facilities and it was great to see it being used to its full potential.
"The tournament really inspires spectators and participants to get on court and play squash and have fun which is what it is all about."
Above all else, as Operations Manager Marc Hughes explained, the tournament offered WLTSC a great opportunity to show they could host such a prestigious event and welcome such a high number of squash players to the club.
"It was a wonderful three days of high-level squash across all the different age groups, and a real honour for us to host the event," he said.
"There were some excellent achievements from our own members, especially with another in a long line of successes for Darren, but we were equally delighted to be able to showcase our facilities to so many visiting players."