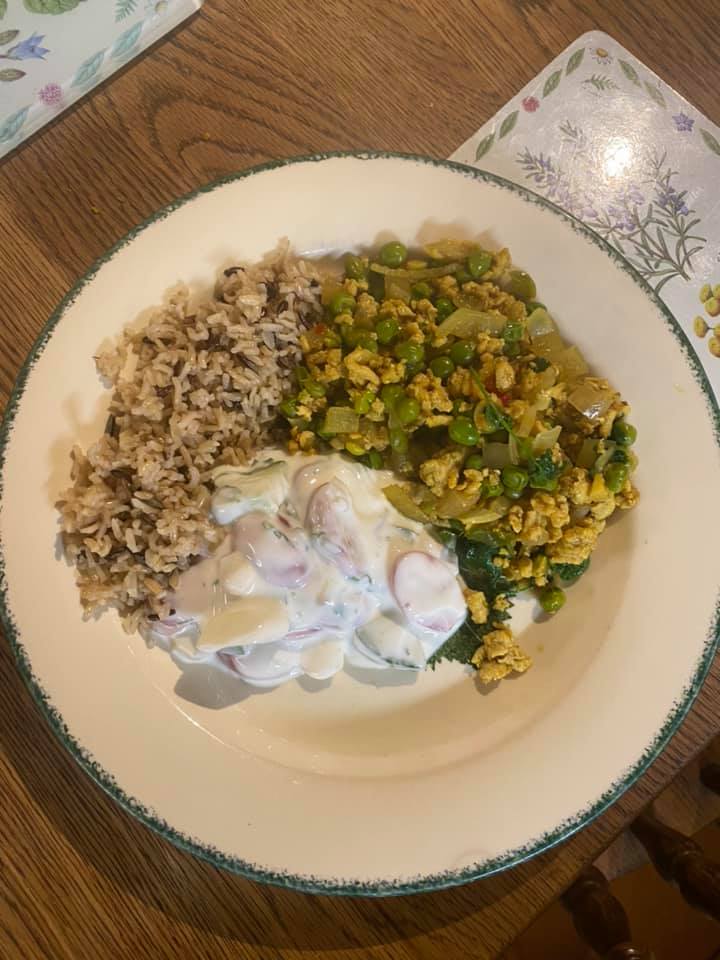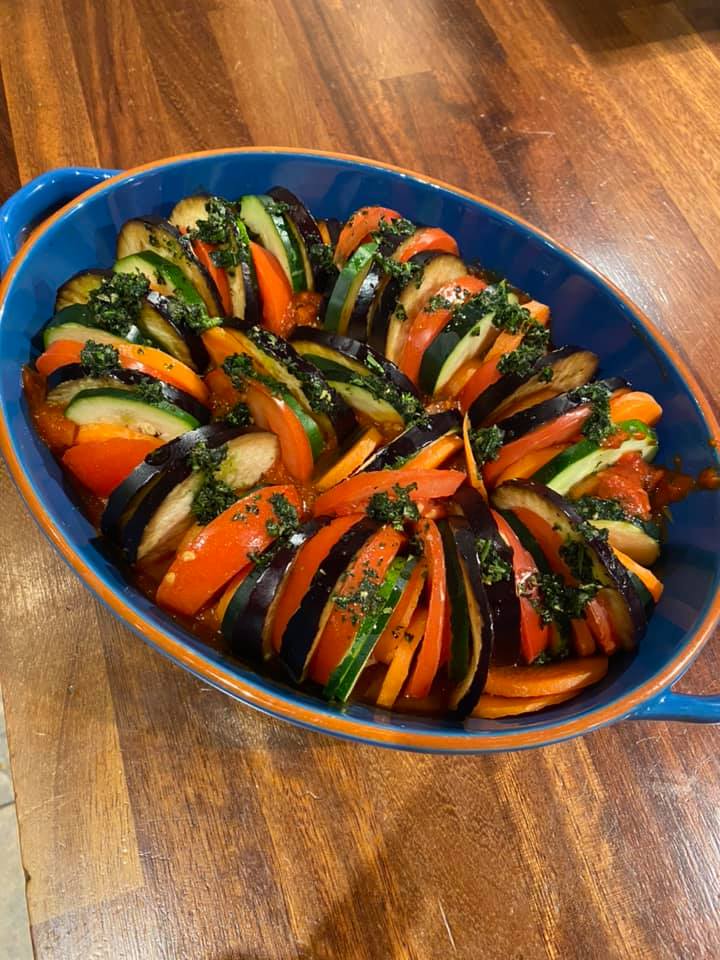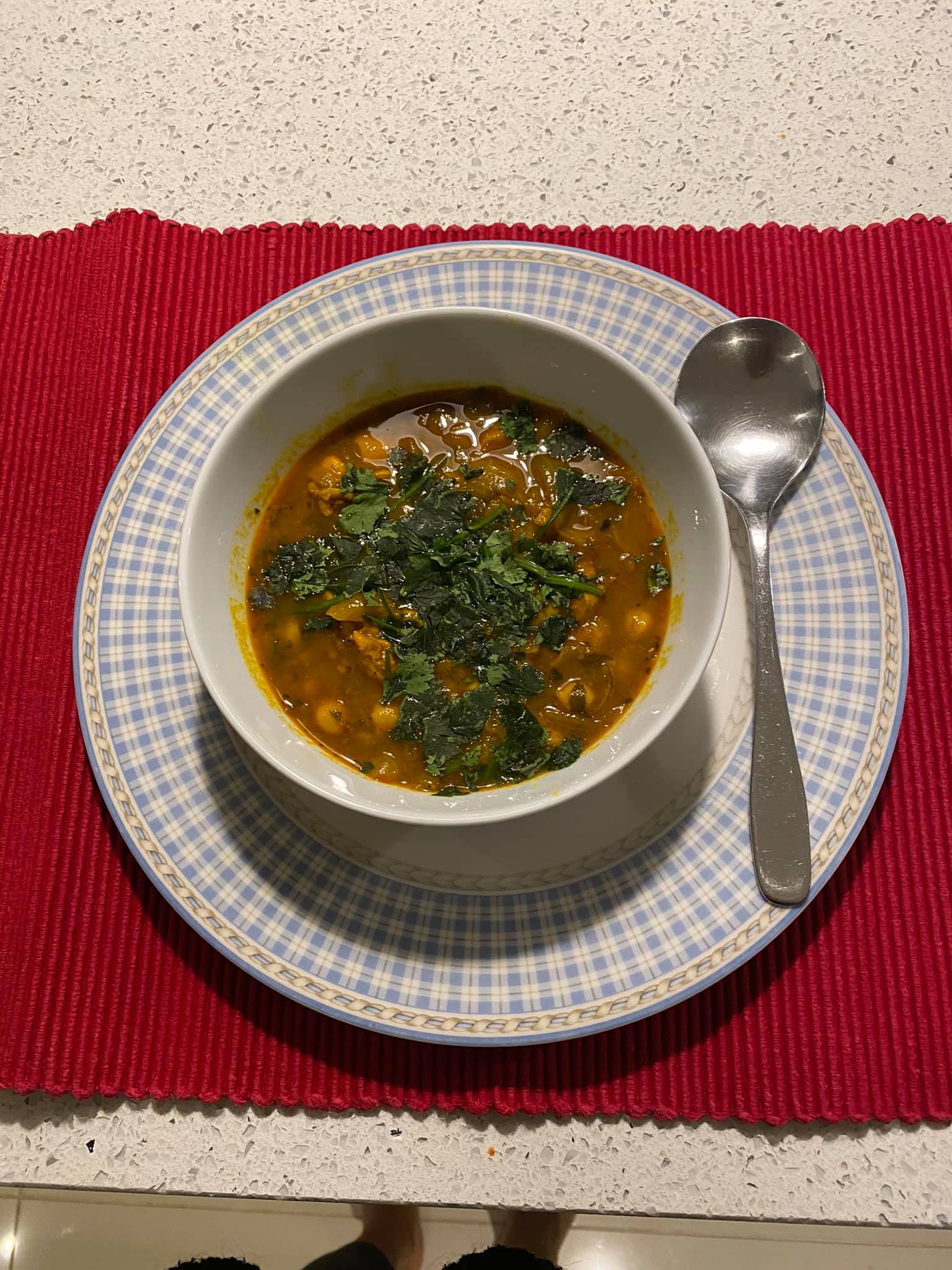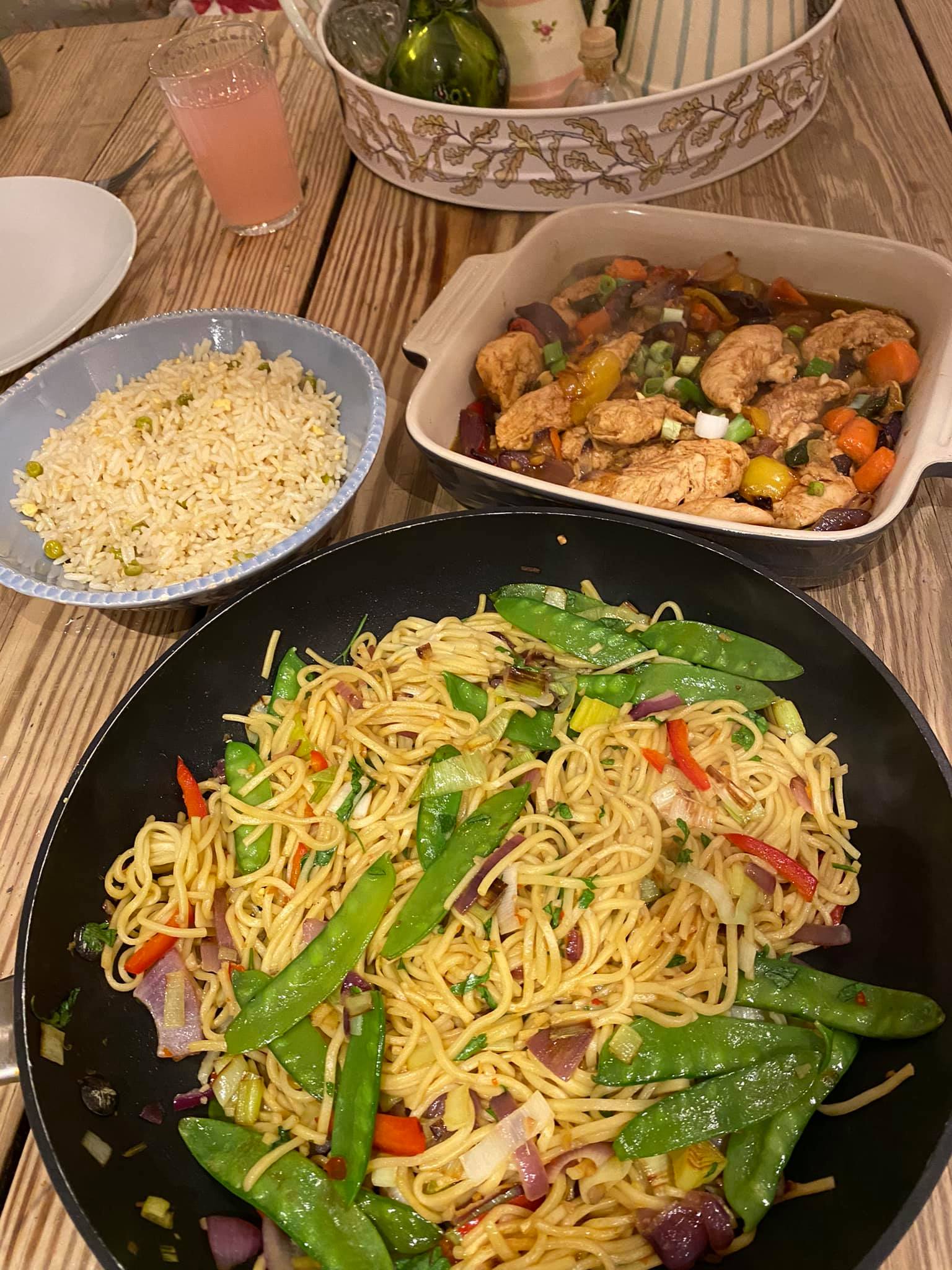 Fogs Turkey Keema Curry
Ingredients:
garlic 3 cloves, finely chopped
ginger a thumb-sized piece, finely chopped
green chillies 2, finely chopped
coriander a small bunch, finely chopped
Heat oil, brown off turkey mince for 5 mins.
Add onion, ginger, garlic, peppers, powdered cumin, powdered coriander, salt, turmeric and fry for 2 mins.
Add stock and simmer for 20 mins.
Add fresh coriander and lemon juice before serving.
garlic 3 cloves, finely chopped
ginger a thumb-sized piece, finely chopped
green chillies 2, finely chopped
coriander a small bunch, finely chopped
Ally Birkett's Ratatouille
Method:
Cut the toms, carrots, aubergines, courgettes into discs.
Chop onion and soften in pan with little oil and the garlic
Add tins of toms and simmer
Mix herbs, olive oil, salt and pepper in small bowl.
Pour toms,onions and garlic into oven dish
Arrange discs around the dish and drizzle with oil/herb mix
Bake at 180 c (fan oven) for 50
Put grated cheese on and bake for further 25 mins
Gurv's Chicken & Chick Pea Curry
Ingredients:
A couple of tsps of Turmeric
A couple of tsps of Paprika
640g chicken thigh fillets cut into biteable size
400g can of chick peas, drain and rinsed.
Method
On medium heat, fry the onion in a little oil gently until transparent
I always a couple of teaspoons of salt (my way)
Then just add everything..except for the chick peas
Stir thoroughly, and put the lid on and let it all cook together, stirring occasionally so it doesn't stick.
After an hour, add the chick peas, and about 400 mls of boiled water. Stir and let it all blend in for another 20-30 minutes. 
My chicken curry usually takes about 2 hours. This will allow the chicken to absorb the curry spices.
Add the garam masala at the end..again to taste..stir it in.
Sprinkle with chopped fresh coriander..
Add less water if you want your curry to be thicker
Mike's Teriyaki Chicken + Noodles
Ingredients:
3tbsp honey ( low fat type
)
4 chicken breasts cut into strips
2 peppers , carrots , red onions cut into chunks
 Method:
1 mix together soy , rice wine , orange juice ginger and garlic and marinate chicken
2 put carrots , courgette , onion and peppers on baking tray and sprinkle with 5 spice , drizzle with olive oil and roast in the oven for 30 to 40 mins
3 remove chicken from marinade and fry on each side for 2 mins to seal
4 put chicken along with marinade in oven proof dish and cover with foil and pop in oven for 20 mins
5 then quickly fry for 5 mins the chicken , marinade and roasted veg and serve with spring onions on top
We served it with egg fried rice and sweet chilli veg noodles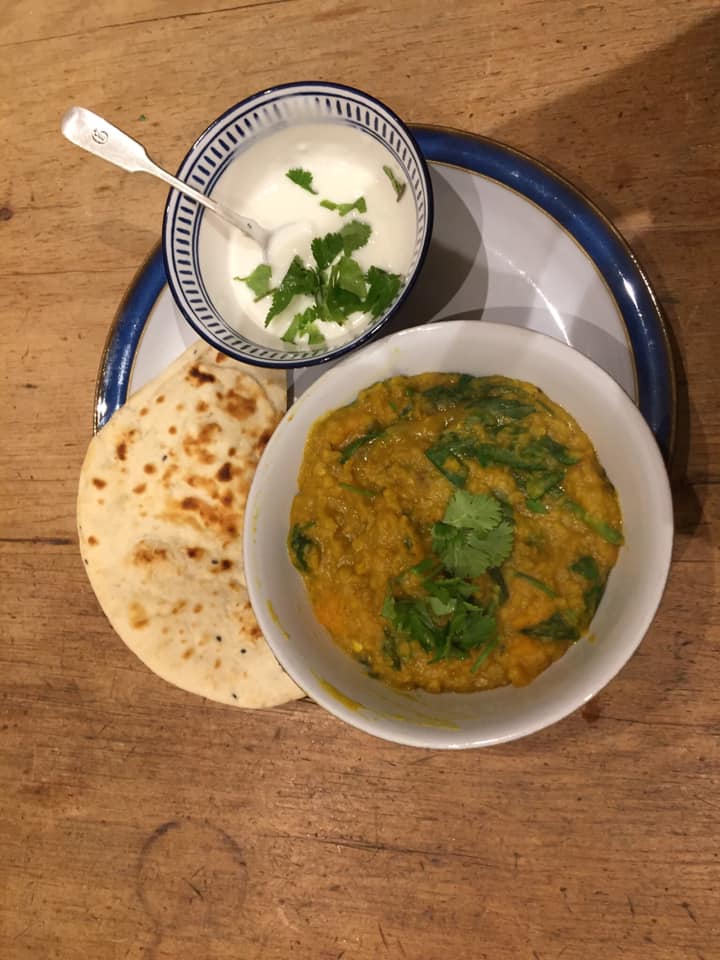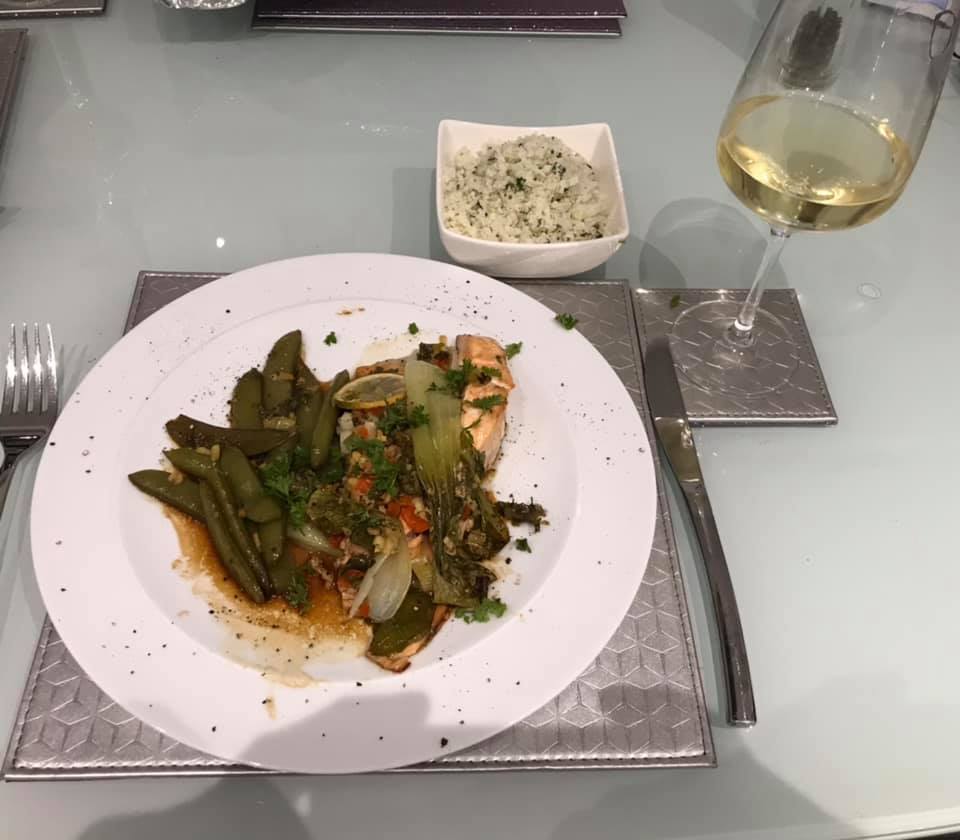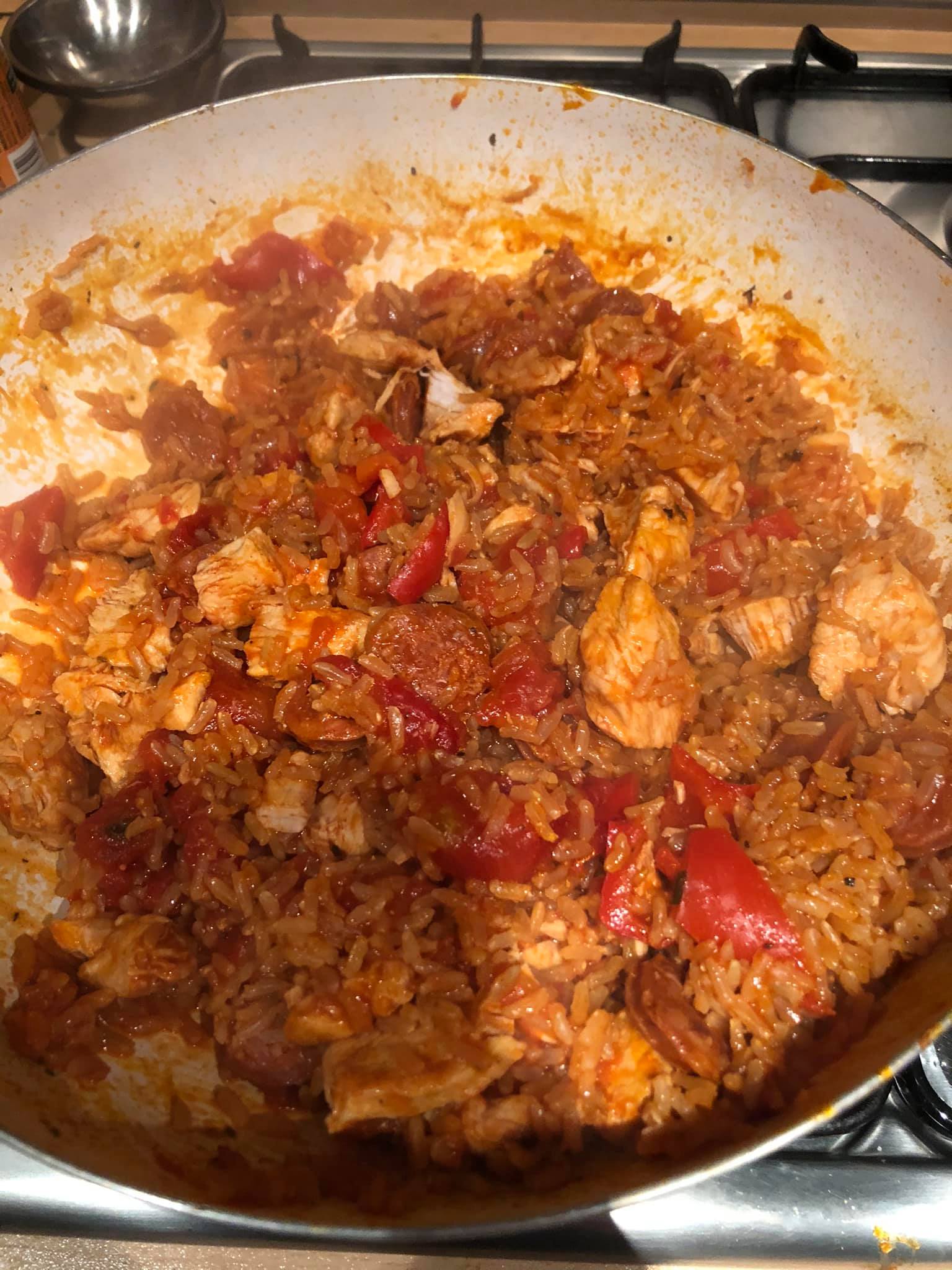 Liz's Spinach, Sweet Potato & Lentil Dhal
Method:
Heat 1 tbsp vegetable oil in a pan with tight fitting lid. Cook 1 finely chopped red onion over low heat for 10 minutes until softened.
Add 1 crushed clove garlic, finely chopped thumbsize piece of fresh ginger and 1 finely chopped red chilli, cook for 1 minute then add 1 1/2 tsp ground turmeric and 1 1/2 tsp ground cumin and cook for another minute.
Turn up heat to medium and add 2 sweet potatoes cut into even chunks . Stir to coat with spices .
Add 250gm red lentils and 800 mls vegetable stock and some S and P.
Bring to boil, stir, cover and cook for about 20 minutes until potato is tender ( may need to add a little more fluid).
Check seasoning and stir in 80g spinach and stir until wilted. Serve with rice, natural yogurt
Sally's Thai Green Curry
Ingredients for 4 people
2 tspn Thai green curry paste
4 chicken pieces (chopped)
1/2 – 1 red chilli (chopped) – depends on how hot you like your curries
2 shredded kafir lime leaves
1 yellow pepper (chopped)
Jasmine rice, Basmati rice or noodles
Method
Melt a bit of coconut oil in a wok or frying pan.
Add cumin seeds, coriander seeds, curry paste, chilli, lime leaves, shallots, aubergine and peppers. Fry for a few minutes to brown chicken.
Add the coconut cream, mangetouts and corn and cook until chicken and corn are done.
Add fish sauce and sugar to taste (and more coconut cream if it's hotter than you like)
Serve with cooked rice or noodles.
Neil's Salmon and Cauli
Ingredients
Red chilli 1 finely chopped
Garlic cloves 2 finely chopped
Ginger 2cm finely chopped
Place salmon, sugar snap peas and Pak Choi on foil sheets. Drizzle with sesame oil and soy sauce. Sprinkle over garlic, chilli and ginger.
Squeeze lime juice and add lime zest. Season with salt and pepper. Cover with another foil sheet and seal. Place in oven (200c) for 20 mins.
Grate cauliflower, microwave for 3mins, stir in coriander/parsley and lemon juice.
Pete's Chicken Jambalaya
Couple chicken breasts chopped bite size pieces
Half a ring of chorizo chopped
Tablespoon of Cajun spice
400ml of chicken stock I use knorr stock pot and water
Brown the chicken the add the chorizo add the Cajun cook for few minutes add the red pepper and cook for further few minutes
The add the stock rice and chopped tomatoes
Cook for 25/3mins or until rice is cook add a little more water if required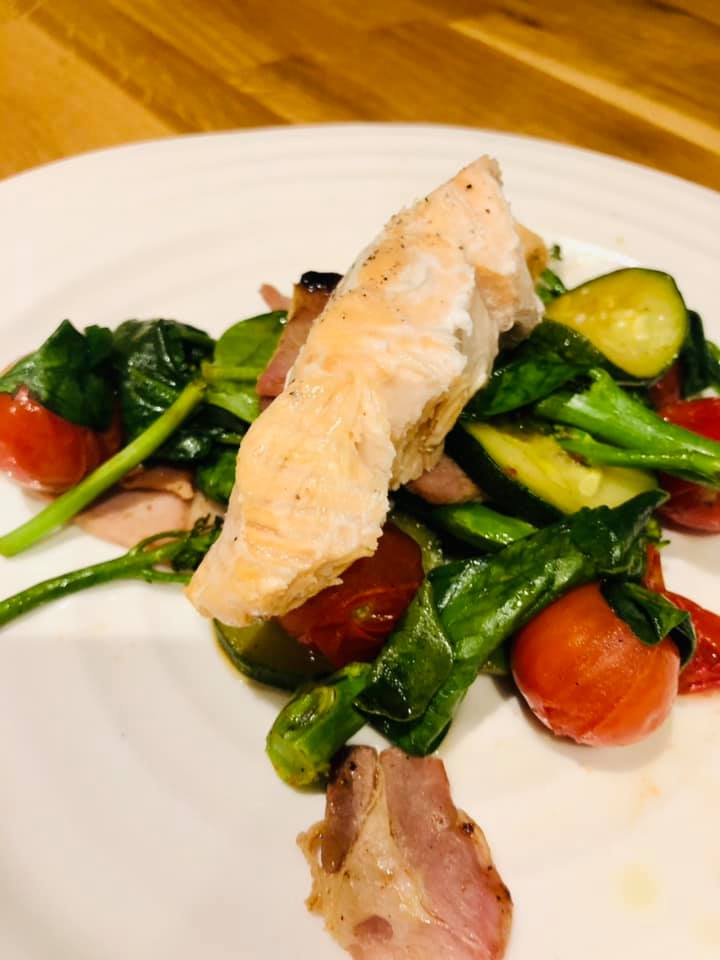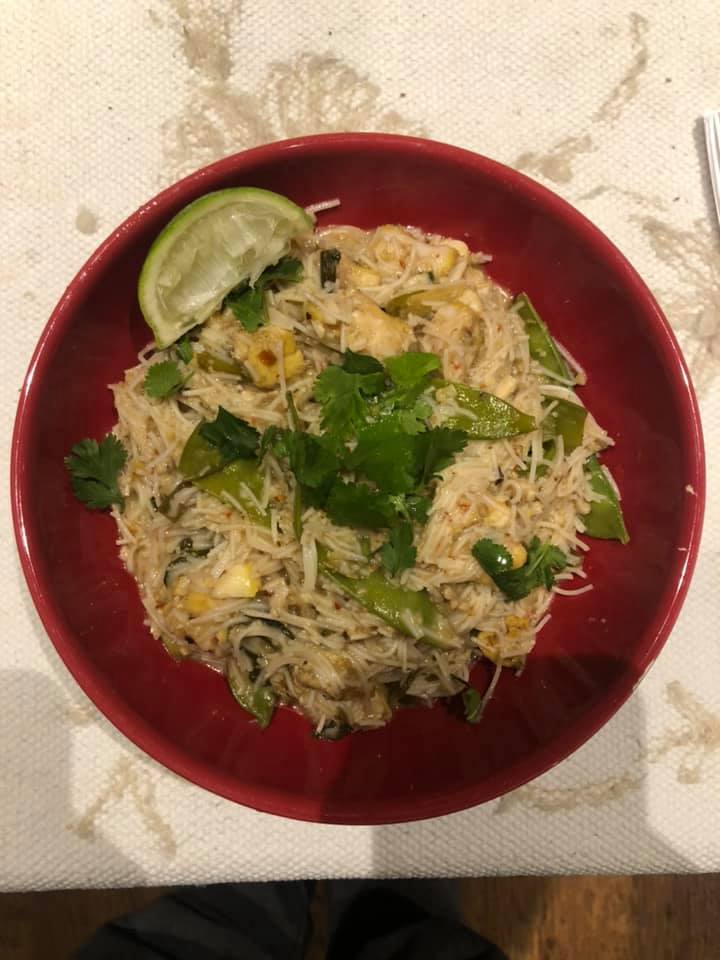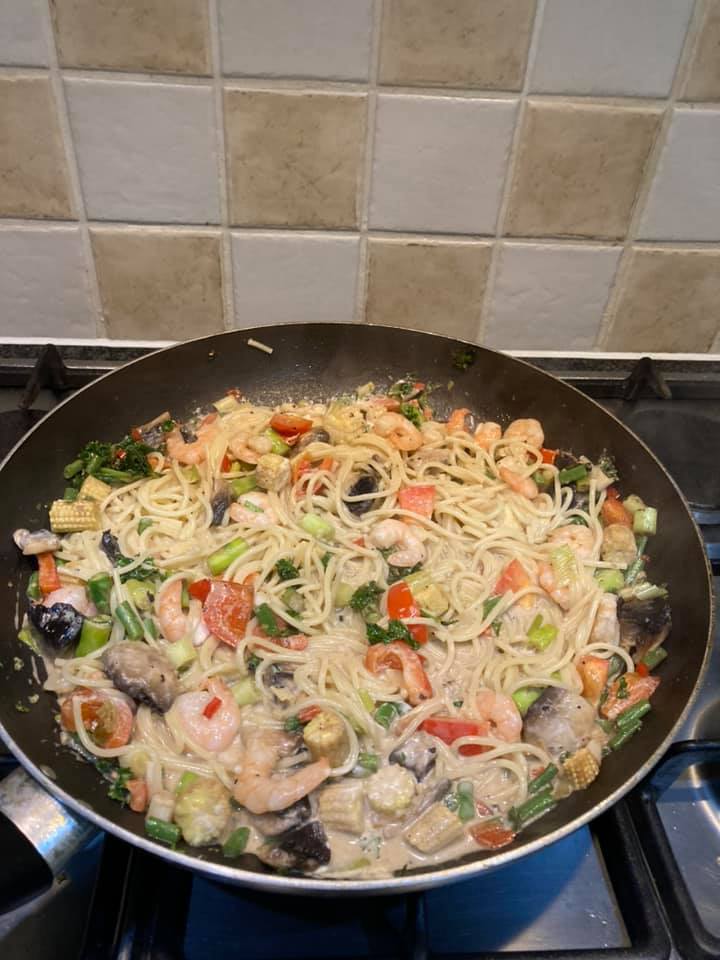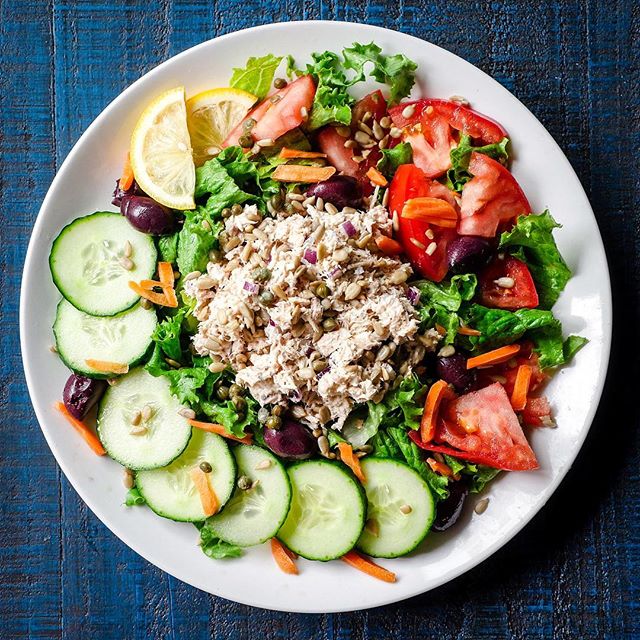 Lynette's Salmon Dish
250g skinless salmon per person
1 courgette cut into half-moons
2 handfuls baby spinach leaves
Finely grated parmesan cheese
Optional: 2 rashers of bacon, trimmed of visible fat and sliced into 1cm strips
Method: 
Bring a large pan of water to the boil, pop in the salmon fillets, then reduce the heat to a simmer.
Poach the fish for around 10 minutes until it's cooked through; lift it out and drain it well.
While waiting for the salmon, heat the oil in a frying pan and, once it's hot enough, throw in the bacon (if you're using it) for a minute, then add the courgette and broccoli, and fry for another minute. Add the cherry tomatoes and cook for another minute or until the tomatoes start to burst open. Add the spinach and let it wilt down, then season with a little salt and lots of pepper
Place the vegetables (and bacon, if used) on the serving plate as a bed, top with the salmon, then garnish with pine nuts and serve with the grated cheese.
Rich's Thai Red Fish Curry
200g Pad Thai rice noodles
1/4 cup (60ml) peanut oil
600g firm boneless white fish fillets (such as ling), cut into 2cm thick slices
2 garlic cloves, finely chopped
1/2 bunch spring onions, chopped, dark and pale parts separated
1 bunch coriander, leaves picked, roots chopped
1/4 cup (60ml) Thai red curry paste
2/3 cup (165ml) coconut milk
1/2 cup (75g) chopped peanuts
Method:
1. Soak noodles in hot water for 10 minutes or until soft, then drain. Set aside.
2. Heat 1 tablespoon oil in a wok over high heat and season the fish. Stir-fry half the fish for 2 minutes or until slightly golden, then transfer to a plate. Repeat with another 1 tbs oil and remaining fish.
3. Heat the remaining 1 tablespoon oil in the pan, then and add the garlic, white spring onion and coriander root. Stir-fry for 1-2 minutes until softened. Add the curry paste and stir-fry for a further 2 minutes or until fragrant, then add the fish sauce, sugar snap peas, 1/4 cup (60ml) water and cook for a further 2 minutes or until sauce is slightly reduced. Return the fish to the wok with coconut cream and remaining spring onion, then toss to combine and warm through.
Sue's Chilli Prawn Spag
Ingredients:
Chop mushrooms , spring onions, red chilli, kale, asparagus, green beans, red pepper, baby sweet corn or whatever is in the fridge.
Heat the spaghetti in a pan.
Method:
Heat some olive oil in a wok or frying pan and add all chopped veg.
About 4 mins. Sprinkle soya sauce and black pepper over the veg.
Add pre cooked prawns until cooked through. Take off heat and add creme fraiche.
Return to heat and add cooked spaghetti.
Heat through and serve. Sprinkle with parsley or coriander.
Bren & Beau's Tuna & Avocado Salad
Ingredients:
Prep time: 15mins
2 Tins of tuna (in water)
Handful of Parsley or chives
12 baby Plum Tomatoes halved
2 table spoons lemon juice
1/2 teaspoon chilli flakes
Method:
1. Add Avacado, Parsley, Olives, Tomatoes, Cucumber, Spinach & Rocket in a plastic container with a lid.
2. In a small bowl or mixing jug, whisk together the lemon juice, olive oil, chilli powder or flakes and black pepper.
3. Add the dressing to the salad, (keep a little back for the tuna) place the lid on securely and lightly shake the container until the salad is fully glazed with the dressing.
4. Plate up, placing the tuna on top of the salad with the remaining dressing and a sprinkle of parsley and chilli powder or flakes!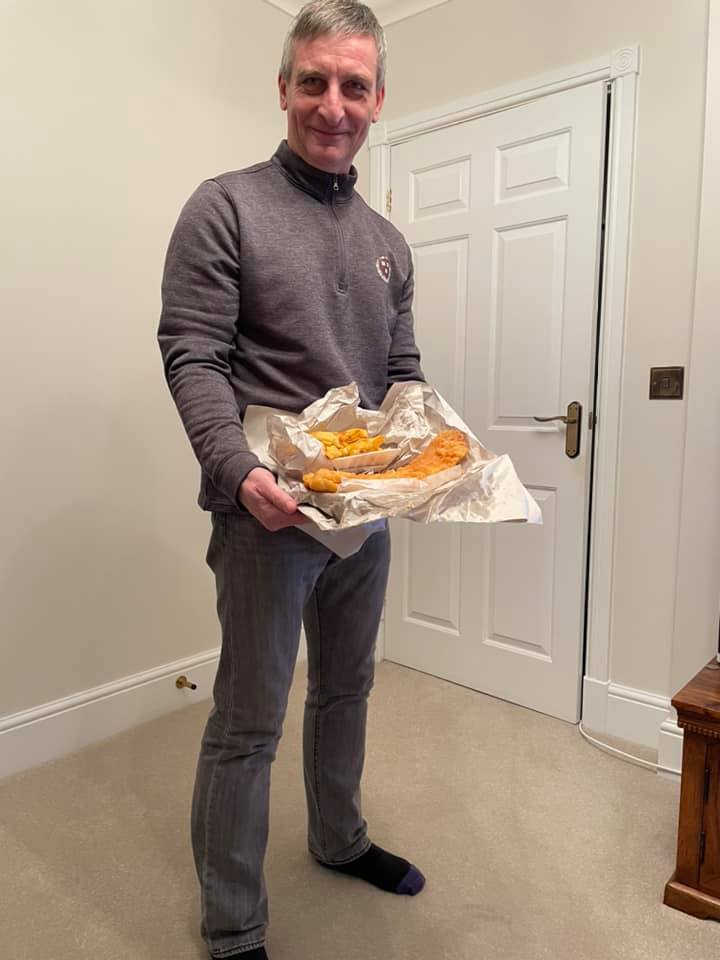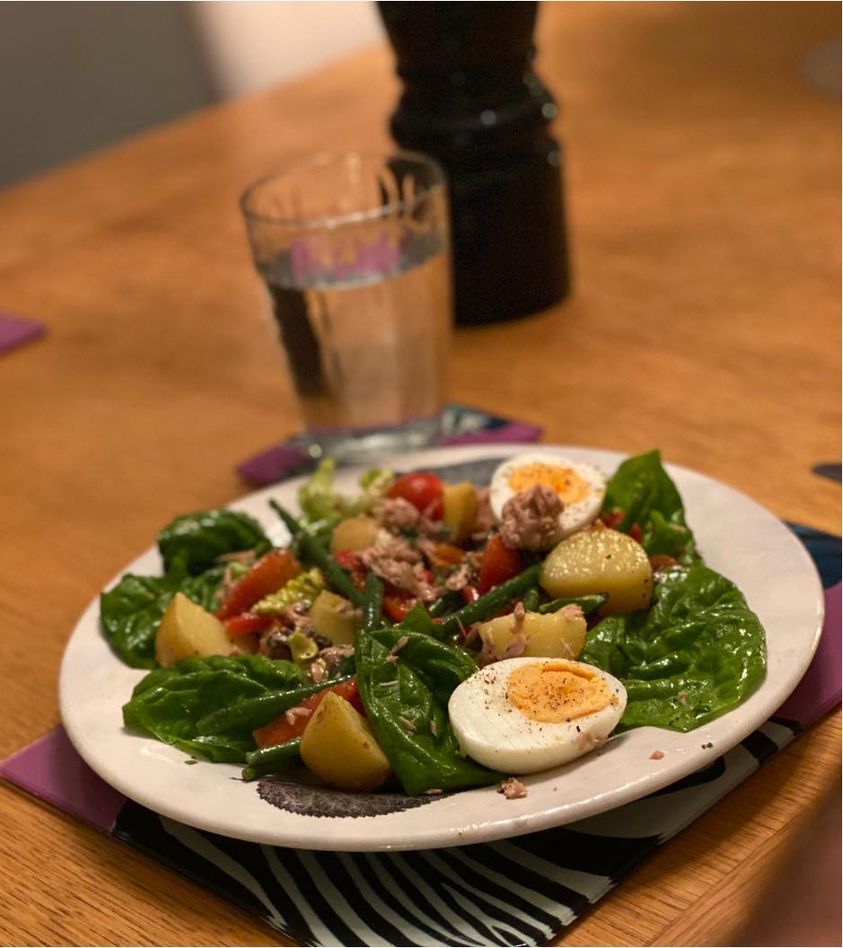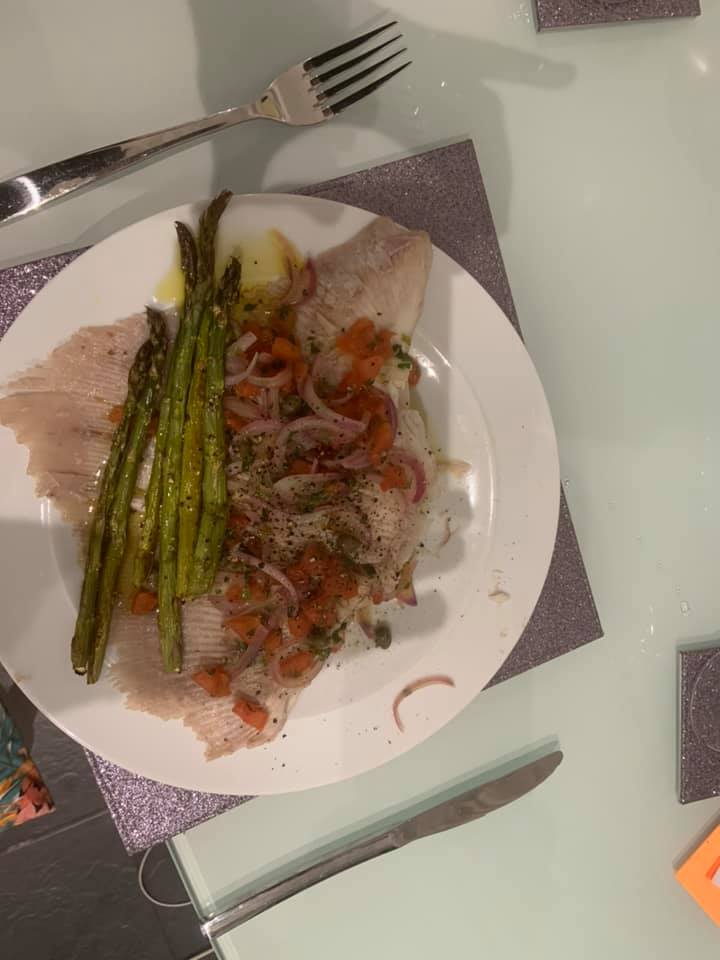 Fog's Cod and Quinoa
Half a cup quartered sprouts
2 tablespoons of red wine vinegar
1) Put fish in a bowl and poor half the lemon juice on it.
3) Mix all rub ingredients together in a shallow bowl, and drag fish through it.
4) Pan fry cod for about 3 mins on each side until golden brown. Set aside.
5) In same pan add garlic, peppers tomatoes, sprouts, capers and stir fry for 6 mins.
6) add lemon juice and cider vinegar.
7) cook for a further 4 mins.
8) combine quinoa and veg mix, season to taste.
9) Make a bed of quinoa, veg and sauce mix place the cod on top and sprinkle with cress.
Dave's Chippy
Ingredients:
Face mask
Car
Car keys
Contactless card
Method:
Drive to chip shop in your car, wear your face mask and buy your desired meal using your contactless card! 
Jason's Tuna Nicoise
Mix dressing ingredients together.
Method:
Add potatoes and green beans to the dressing. Toss to coat.
Add all other ingredients (except the eggs)and again coat in the dressing.
Throw on a plate and serve with the eggs.
Emer's Skate & Vinaigrette
5 tablespoons of extra virgin olive oil
1/2 tbsp red wine vinegar
1/2 small red onion thinly sliced
1 tomato skinned seeded and finely chopped
1/2 tbsp finely chopped parsley
2 x 8oz skate wings trimmed and skinned
Method:
1. Poach the fish in 1 1/2 litres of salted water until cooked
2. Vinaigrette:- warm the oil, vinegar. And onion in a small frying pan. Turn off the heat and add the tomatoes capers and parsley .. season with s & p
3. Serve the skate with the warmed vinaigrette spooned over the top and serve with asparagus.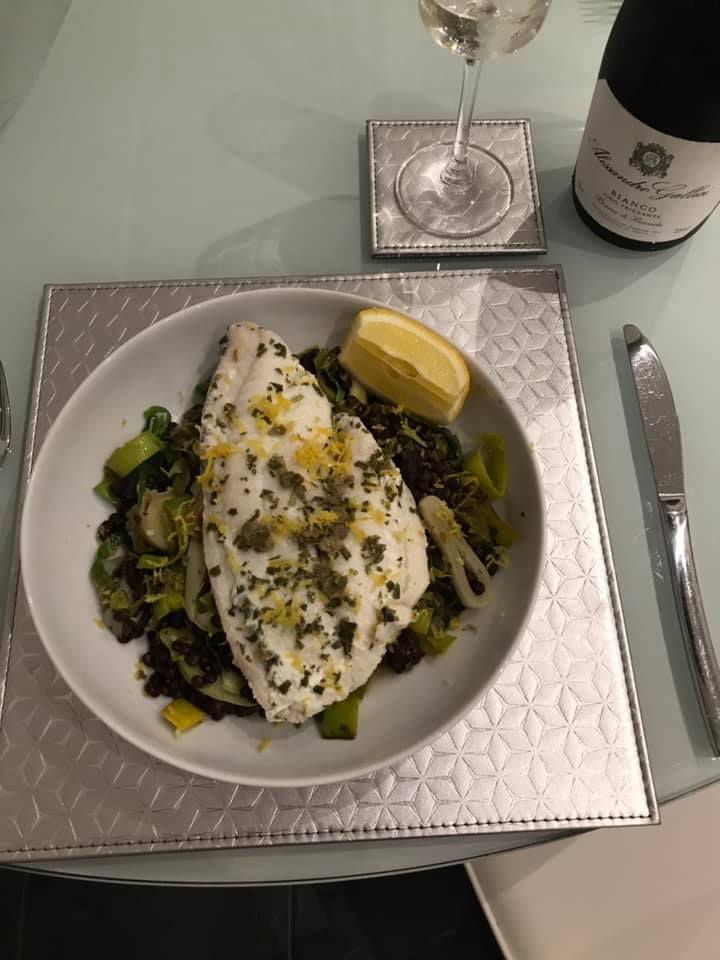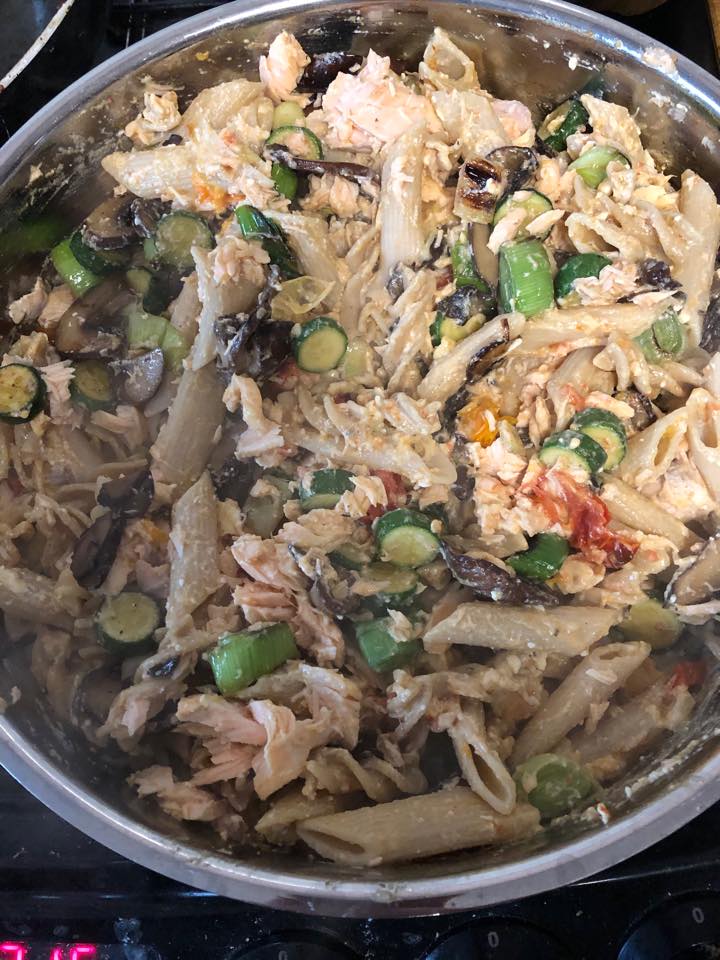 Neil's Poached Haddock
2 lemons, zest of both, juice of 1, 1 cut into wedges
10g fresh tarragon, chopped
2 x 150g skinless boneless haddock fillets
200g spring greens, shredded
250g pack cooked puy lentils
1 tbsp capers, drained and roughly chopped
Method
1. Heat the oil in a medium pan and cook the leeks with a pinch of salt over a medium heat for 5-6 minutes, stirring occasionally, until lightly golden. Meanwhile, put the stock, ½ the lemon zest, the lemon juice and ½ the tarragon in another medium pan and bring to the boil. Add the haddock fillets, reduce the heat to just bubbling and poach for 6-8 minutes until the fish is just opaque. Remove the haddock and reserve the cooking liquor.
2. Add the spring greens to the leeks in 2 batches, with a ladle of the haddock cooking liquor, until wilted. Stir in the lentils with enough of the haddock liquor to coat. Serve in bowls with the haddock and top with the capers and remaining tarragon and lemon
Susan's Tuna Suprise
INGREDIENTS (serves 4)
2 pt. cherry or grape tomatoes
3 cloves garlic, peeled and smashed
60 ml extra virgin olive oil
Zest of 1 lemon (optional)
Mixed vegetables such as baby courgettes, leeks and mushrooms.
DIRECTIONS
· Poach the salmon fillets in water and then set aside
* Preheat oven to 200°C (180ºC fan). In a large ovenproof pan or medium baking dish, combine tomatoes, shallot, garlic, and most of the olive oil. Season with salt and chilli flakes and toss to combine.
* Place feta into centre of tomato mixture and drizzle top with remaining olive oil. Scatter thyme over tomatoes. Bake for 40 to 45 minutes, until tomatoes are bursting and feta is golden on top.
* Meanwhile, in a large pot of salted boiling water, cook pasta according to package instructions. Reserve 120ml pasta water before draining.
* Stir fry the vegetables
* To pan with tomatoes and feta, add cooked pasta, reserved pasta water, vegetables flaked salmon and lemon zest (if using) to pan and stir until completely combined. Garnish with basil before serving