WLTSC members can enjoy a fun and competitive introduction – or continue to develop their skills – in the ever-growing sport of touchtennis – at two upcoming tournaments set for the club's pristine- looking grass courts.
Club Tennis Coach Clayton Edge is both an experienced tournament organiser of touchtennis events, and also a highly regarded player, currently occupying joint sixth spot in the world rankings for the sport.
Clayton is now organising a huge rankings event at the club ‪on Sunday, September 1st, open to all, but before that will also be staging an afternoon tournament alongside the start of the Staffordshire Tennis Championships at the club ‪on Monday, August 26th, from 2-5pm.
touchtennis is a game played with a high density foam ball on a compact court with 21" rackets, and is suitable for all ages and abilities.
"The sport first originated in 2003, before a tour got underway in around 2008, and I first got involved about three years ago," says Clayton.
"As soon as I did, I was hooked!
"It's a great sport, and the beauty is you can set up a court and play pretty much anywhere."
"It isn't a case of re-inventing the wheel, modified tennis games have been around forever but the foam ball is what really makes it unique and fun and the sport/tour is growing and growing and become extremely popular worldwide."
"If a beginner wanted to get into racket sports it is a great starting point where you can learn the skills and then transfer it all onto the tennis court."
"You can get far more success and progress in a quicker time.
"For people who already play tennis, or squash and racketball, it is a sport you can pick up within minutes which guarantees rallies and is also good fun and a great workout"
"And the better you get, the harder touchtennis becomes, as once you reach a high level then you can get involved in some very long rallies."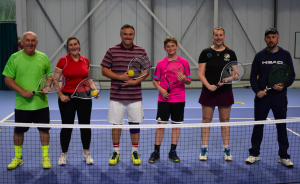 Clayton's career highlight in touchtennis to date was defeating former tennis Australian Open finalist and world number four Fernando Gonzalez.
There won't quite be anyone at that level for the upcoming tournaments at WLTSC but there is already a healthy and extensive entry of all ages and abilities.
The ‪September 1st ranking event, sponsored by IMA Financial Solutions, includes not just an Open Draw for men and women but also a separate Ladies' event, Over 40s, beginners and consolation draws, as well as a ranking doubles event all included in the entry fee.
Click here for all the details and how to enter.
For the Bank Holiday Monday event, click here to enter via Facebook or turn up at to register at the club at 1pm on Monday ahead of the 2pm start. The cost is £10.