Hot on the heels – or rather in the slipstream – of the intrepid band of cyclists that hit three figures in miles to Aberdovey last Friday, a new cycling club is coming to WLTSC.
Hayley Hollingsworth has volunteered to start the new club for cyclists of all abilities, both members and non-members, to get on their bikes every Saturday.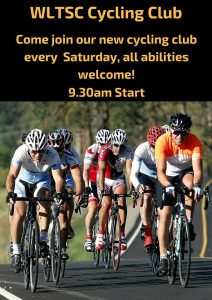 So why not get together for a new social activity and keep fit and healthy every Saturday morning?
The WLTSC Cycling Club meets for the first time this Saturday, at 9.30am.
Meanwhile congratulations to everyone who took part in the Aberdovey ride and raised a fantastic amount of money for the Queen Elizabeth Hospital in Birmingham in memory of Robert Marshall and thanks for the treatment given to Ryan Hughes.