Whoever took to the hallowed lawns of Wimbledon's Centre Court during this year's Championships, and even considering the heroics of Novak Djokovic and Angelique Kerber in becoming the 2018 victors, it would be hard to the beat the star quality with whom Alan Durban once locked horns on a tennis court.
Pele.  And Sean Connery.
Yes, probably the most famous footballer who has ever lived, and none other than James Bond himself.  Quite a combination.
How on earth did that come about?
Durban takes up the story, of a surreal day in Marbella some 36 years ago.
"It was back in 1982, just after the World Cup had finished in Spain," he explains.
"I was out there with my family and on the first day I went to the Puerto Romana complex to have a look around.
"Bjorn Borg was there giving someone a lesson with his coach Lennart Bergelin and I was booking a lesson for my daughter for the next day.
"As I was leaving a Belgian Davis Cup player asked me if I would pop down the next afternoon as he had 'arranged a nice little four' for a game of doubles if I fancied it.
"I was Sunderland manager at the time and his partner was a girl from Middlesbrough so I think she knew I played a bit of tennis.
"'Well, why not?' I thought, and went back, as requested, the next afternoon.
"Lo and behold the other two who turned up ready for the game….were Pele, and Sean Connery!
"To be honest, they weren't the best, so we split up and I played with Sean against Pele and the Belgian Davis Cup player.
"Funnily enough I should have played against Pele at football, back in 1966, when Wales had two games against Brazil before the World Cup.
"I think we were their 'fodder' to prepare for the tournament, but Pele didn't play, I think he had an injury."
Durban, born in Port Talbot but now living in Telford, is sat in the conservatory at Wolverhampton Lawn Tennis & Squash Club, where he has been a member for the last 15 years.
He has been studiously watching the World Cup group game between Argentina and Nigeria, and half time offers an opening for a chat.
A cheery exchange of greetings takes place with all who walk past – it is clearly a club where Durban feels very comfortable and very much at home.
A footballing figure who achieved great success as both player and manager, he is not prone to shouting from the rooftops about it.
Even the magnificent Pele and Sean Connery anecdote has to be prised out of him having been picked up from elsewhere.
And maybe it is them who should have been asking about Alan Durban!
A playing career which saw him earn 27 Welsh caps in total – the first of which came in one of those fixtures against Brazil – included the memorable 1971/72 First Division title secured with Derby County under the management of Brian Clough.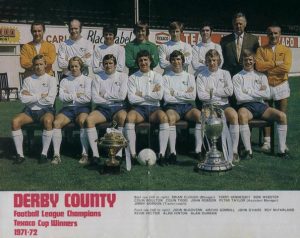 He had previously started his career with Cardiff, and would later join Shrewsbury, going on to become Player Manager before also serving as boss with Stoke City, Sunderland and Cardiff.
In total he managed for over 500 games, including promotions with Shrewsbury and Stoke, and remains very much a fan of all football.
"What has happened to all the goalscoring midfielders," he breaks off to ask.
"Where have they gone? Since Lampard and Gerrard, no one has really come forward who scores goals from that position…."
Durban was an attacking midfielder, but in truth his prowess in all manner of sports meant he may well have hit the heights in other areas had it not been football.
He spent three years on the books of Glamorgan Cricket Club, and, in tennis, reached the semi-finals of the Welsh Junior Championships, whilst also helping Derby outfit Ockbrook & Borrowash to a title the one year.
So it was more than just footballing silverware he gathered in the East Midlands!
"Football, tennis, cricket, table tennis, golf – my life has basically been built around sport," he explains.
"I was brought up in a house which was extremely competitive.
"My Grandmother would throw the Monopoly board up in the air if she started losing.
"So I probably picked up a bit of my competitive edge from her…"
Durban has shared the sporting arena with many other top sporting names aside from Pele.
He played tennis against Roger Taylor and Mark Cox – "which showed me just how useless I was" – cricket with Tony Lewis, and of course football with the likes of Archie Gemmill and Roy McFarland.
"And when you've walked out at Wembley with Bobby Moore, it doesn't get much better than that," Durban adds.
This article is mainly about his tennis though, and how Durban, who turned 76 on July 7th, is still manoeuvring his way around the court despite those advancing years and enjoying the spirit and camaraderie of doubles' fare.
It was tennis that afforded the proud Welshman his first job after football, although even that was related to showing a glimpse of his sporting ability.
"It was Brian Gray, formerly a prominent member at Wolverhampton, who owned Telford Racquets Centre at the time," he recalls.
"I lost my job as manager of Cardiff – I made a mistake taking that job to be honest – and Brian asked me to go along for an interview to manage the Racquets Centre.
"He asked if I would have a game of tennis with him as part of the process.
"What that had to do with my ability to manage the tennis centre I'm not so sure?!
"But at 5-3 up in the first set, I did ask him what my best chance would be of getting the job – whether to go on and win or let him get back into it!
"I eventually got the job, and really enjoyed my time there, I had a great ten years."
Telford Racquets Centre was eventually to close, and, aside from the day job, that left Durban needing a new venue to play his tennis.
The late and renowned WLTSC-based tennis/squash coach Pete Brown, whose son Scott came through the Wolves Academy and has now made over 400 appearances a goalkeeper, was a regular at Telford coaching the Welsh national juniors.
"When the centre closed Pete suggested I came over to Wolverhampton," says Durban.
"I knew the club anyway as I had played a few matches here.
"Half of us from Telford came over to Wolverhampton and half went over to the Shrewsbury Indoor Centre.
"I do still play a bit at Shrewsbury as well, but a lot of the same crowd who came over to Wolverhampton from Telford all those years ago are still playing here now.
"And I still very much enjoy my tennis.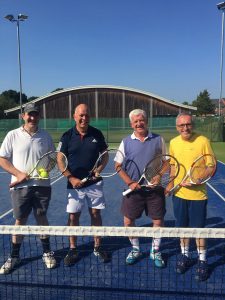 "A few years ago I would still be involved at a national level, in Veterans' tournaments, and when I first came to the club here, I was involved with the Second team which was a good standard.
"I'm not as fit as I used to be – you'd expect that at my age – but if I'm honest I don't spend too much time looking backwards.
"When you look around at the facilities and the environment at WLTSC, and the weather as it has been recently, it's not too bad is it?
"And I still get to go abroad to play some tennis in that same warm weather from time to time, or to watch football – that's the beauty of being retired!
"There is still the golf as well, I play at Shifnal a couple of times a week and, while I am not any more, for many years I was off single figures.
"I have always had that competitive edge, whatever I have done, although I am probably slightly more humble now when I lose….it is happening far more often so I have to be!
"What I would say is that when I play tennis now it is always nice when people stay for a drink afterwards as well.
"It is part and parcel to have a chat after the game, to be sociable, otherwise you just don't find out about people do you?"
And Durban is certainly a big fan of the progressive attitude at WLTSC, both with the facilities available and the potential for the future.
"It is a great club here," he says.
"And I think it is continuing to develop.
"That is the big thing for me. – people are looking ahead at how it can improve rather than just wallowing in being very good as it is at the moment.
"There is a nice atmosphere here and some good people, and they are looking to move it forward."
And yes, as in most sporting institutions, there is the odd bit of football chat flowing in the spacious bar area, not so much about Durban's career history but more the modern game.
He continued to scout at the end of his managerial career, adding Kevin Phillips to his 'scoops' having previously taken Ally McCoist to Sunderland during his time in the managerial hotseat on Wearside.
He enjoys purely a watching brief now, and it is the current Wolves crop who are very much on the agenda.
"I still get to watch Stoke and Derby fairly regularly, and saw four or five Wolves games last season," he says.
"That Neves, he is some player isn't he?
"And when I was playing I was never happy with my centre back being in the left back position but he seems happy enough in there!
"Wolves were a pleasure to watch, how the coach got them going so well so quickly and the way they all have so much confidence in each other.
"I suppose my tactical brain still keeps going a little bit, and it was nice to see something new, and great to watch.
"I think they will be alright in the Premier League this season as well.
"So yes, we will still talk football here at the club, and there has been a lot of talk about Wolves over the last year – the West Brom people have gone a bit quiet."
With that Durban is back into the bar, sharing a joke with fellow club members and taking his seat for the second half.
Lionel Messi starts to do his stuff, but whether he and the current James Bond Daniel Craig would fancy their chances against the ever-sprightly and enthusiastic Durban remains to be seen…