This week is Women's Squash Week across the country, and therefore no better time to shine a light on some of the ladies who enjoy playing the game, and to a high standard, at WLTSC.
And in particular two who boast a combined 84 years of taking to the court, and who last weekend took part in the West of England Masters on home soil.
Cathy Grinsell and Jane Hatton are well versed in league squash having both turned out for WLTSC in the Shropshire League, and many other leagues in the past as well.
Entering the Masters was perhaps motivated partly by the event taking place so close to home, but both enjoyed the experience, with Cathy finishing the round robin tournament as runner up.
A great achievement for a player who first set out playing the sport over four decades ago!
"I first played at the age of maybe 22 or 23, when I was working at Goodyear, and they built a sports centre with a squash court," Cathy recalls.
"Quite a lot of us started playing and I ended up captaining the ladies' team.
"It all progressed from there and I have played in many different leagues, joining here at Wolverhampton about 18 years ago.
"I remember the day I joined – I became a member at 5pm and was playing my first match for the club at 7pm!
"I'm 62 now, and am still playing a lot of squash, three or four times a week, and still taking on a lot of the young men…and beating them!
"We are fortunate here to have quite a strong female contingent of squash players, but it would be good to get some more youngsters coming through.
"Both my daughters play – they have been brought up on it! – and for me it is the best game in the world!"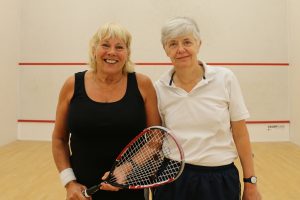 Jane is also hugely experienced in the world of squash, having been playing the game for almost four-and-a-half decades!
"I always wanted to play squash, and when I went to Newcastle University, I had the opportunity to do so," she says.
"I have been playing at WLTSC now for about 24 years I think, and still play a bit of team tennis in the Shropshire League.
"I probably only entered the Masters event as it was here at the club, and the others were probably a bit better than us, but it was still good fun!"
As Cathy mentioned, there is also a strong group of younger squash players enjoying the sport at WLTSC, many of whom – such as Aimee Jones – were showing their support for their club colleagues, also including Elaine Radcliffe and Kate Fuller, at the Masters.
"I am 27 now, and was 13 when I first started playing squash," says Amy.
"My brothers played, so I picked up a racket and had a go, and ended up playing as a junior here.
"There is a good atmosphere at the club with the other female players and I really enjoy playing in the teams."
All three ladies are very much united in terms of the overall benefits of squash as a sport, whether played for fun, or competitively.
"For me personally I can't believe more women don't get into it," added Cathy.
"Particularly for the calorie burn…you can burn 600 to 650 calories in a 45-minute game which is better than most training sessions!
"It was great to be involved in the Masters tournament because it promoted our club and will hopefully help expand our membership base to get more squash players coming through the ranks."
"Aggression within rules" – that is Jane's description!
"And you can play indoors, 45 minutes of intense exercise, and you only have to organise two people to play!"
For Aimee, squash has also helped her in many other ways apart from just the game itself!
"It is a sport which keeps you fit and active, and is also socially good with meeting new people," she says.
"I used to work at the bar here, then got a job with one of the guys I played squash with, and I also met my husband here as well!"
*A female interested in playing squash? Why not give it a go and pop along to one of the regular sessions. Click here to view more details.