WLTSC Personal trainer Brendon Turner and his intrepid team are back in training for another gruelling fundraising challenge, in memory of his father Dennis.
The latest Lord Bilston Big Challenge is entitled 'Carry the Load', and will see the adventurous group transport two members of staff from Compton Care – previously called Compton Hospice – on the back of a tandem, on a stretcher, and in a canoe, without their feet touching the floor.
Just the small matter of 140 miles to cover during the event which takes place on Saturday, July 21st, and will raise money for Compton Care.
Dennis Turner became Lord Bilston in 2005 having dedicated his life to service to the community, including many years as a Wolverhampton Councillor and Deputy Leader – and serving as the Member of Parliament for Wolverhampton South West.
He passed away at the age of 71 following a battle with cancer in 2014, and the Turner family remain indebted to the care he received in his final days with Compton Care.
That inspired Brendon to start these epic bi-annual challenges in memory of his Dad, and to raise funds for the crucial charity – and challenge three is now just around the corner!
"We were really impressed with Compton Care and the care and dedication which they showed to my Dad," he explains.
"In the July after he had passed away in the February, we decided to do a fundraiser, just as a way of saying thank you.
"I wanted to organise an event that represented a real challenge like the one Compton staff and cancer patients face on a daily basis.
"For the first one it was a group of my mates, around 12 of us on total, and we did a cycle ride, canoed at Bala and walked up Snowdon in a 13-hour challenge which raised £13,000.
"Two years ago we did it again, starting with a cycle ride form Anglesey, carrying our bikes of the top of the mountain and swimming in Lake Bala, and that raised about £15,000.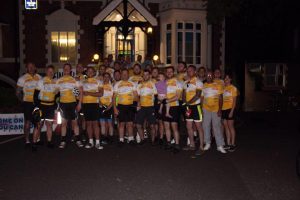 "Now it is time for our biggest challenge yet!
"We're doing a cycle ride starting from Swansea, which will include taking two members of Compton Care's staff – Grace Lee and Debbie Smith –  in a trailer, followed by an eight mile hike when we will carry them on a stretcher, back on the tandem, and then in the back of a canoe down the River Wye
"Then it's back on the bikes at Hay-on-Wye for the final journey back to Wolverhampton.
"The message of the ride is that we know that the staff at Compton Care carry a load for so many people at their most stressful and sad times, and that can be really difficult.
"They give people so much help and comfort, and they make it as painless as possible for those going through such a tough experience, just as we were with my Dad.
"So on this occasion we are going to 'Carry the Load' for the members of staff from Compton, all the way back from Swansea to Wolverhampton."
Training is well underway for the mammoth challenge, with several among the team having also been part of the WLTSC contingent which took part in last Friday's ride to Aberdovey in aid of Birmingham's Queen Elizabeth Hospital.
Ironically, Dennis himself was not necessarily a keen fitness enthusiast, and so Brendon's inspiration for the challenges is more down to his sense of community than time spent in the gym!
"I wouldn't say my Dad was too keen on exercise," Brendon explains.
"He used to turn up to the gym in his suit and say he couldn't do much because he had to go off to a meeting!
"So all this is quite ironic really!
"But he was a great public servant, and he was all about meeting people, being in social circles, and was very much a driver of the sort of teamwork which we will need for this challenge.
"He would never turn anyone away if they had a problem, and even if he was out for a drink and someone approached him he would try and help – he was never off duty.
"He was always committed to people helping others, and a strong sense of community spirit, and those are the values and the philosophy which we are trying to keep going.
"I am just keeping my Dad's memory alive in a positive way, whilst at the same time helping out a really caring and important charity.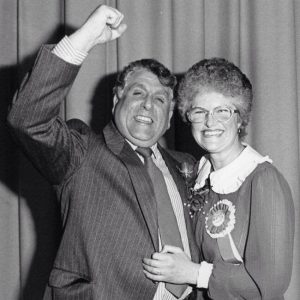 "No wage or salary would have been enough to repay the love and affection the nurses from Compton and Dad's beloved NHS displayed in his last days in this world."
A golf day was recently held to kick off this year's fundraising, and the target from the Lord Bilston Big Challenge is to surpass last year's total of £15,000.
Brendon's Mum and Dennis's widow Patricia has helped out with contributions to the kit for this year's race, and she and daughter Jenny will be supporting every step of the way.
When the party return to WLTSC on the evening of July 21st, a celebration dinner will be held where family, friends, sponsors and supporters can get together and, hopefully, toast another successful Lord Bilston Big Challenge.
Grace Lee PR, and Marketing Manager at Compton Care, who is one of those being 'chauffeured' for the challenge, says:
"Brendon and the rest of the Lord Bilston Big Challenge have been fantastic supporters of Compton Care, always pushing themselves to the limit to help raise essential funds so we can continue to deliver extraordinary care for local people living with incurable illnesses.
"When Brendon first approached us with the 'carry the load' idea for this year's challenge we were so impressed and really moved by the sentiment and motivation behind it.
"It is true to say that Compton carries and guides people through their experiences of life with an incurable condition, and so we're touched that the group want to give something back in such a thoughtful and imaginative way.
"As one of the people being 'carried' I'm not quite sure what to expect from the challenge, but I do know that we will all be working incredibly hard to raise as much as possible for Compton Care and honour the memory of a great local man – Lord Bilston, Dennis Turner."
To contribute to this year's challenge, please visit https://www.justgiving.com/fundraising/team-lord-bilston1 and also check for progress on the Facebook page.