Former Wolves and England Under-21 goalkeeper and lifelong fitness enthusiast Matt Murray has returned to one of his former haunts to open a new and improved gym facility.
Wolverhampton Lawn Tennis & Squash Club have added to their existing gym facility by expanding their functional fitness area to be known as The Pit.
Murray used to spend plenty of time at WLTSC when Wolves' first team squad used the changing and catering facilities for several years whilst training at Compton Park and before the building of the Sir Jack Hayward training ground in 2005.
"We always used to enjoy coming here after training as we would always get a great welcome and we were well looked after," says Murray.
"There was also the opportunity for plenty of banter with players, coaches and the staff which was always good fun.
"The facilities are fantastic, and, given how everyone knows how much I love working out in the gym, this looks like it is going to keep the members really busy with their fitness sessions.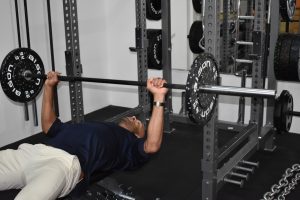 "Anything that pushes people to keeping themselves fit and in good condition is always important, and I am sure The Pit will prove a valuable addition to such a great club with so many different sports on offer."
The additional Strength & Conditioning area has been decked out with new equipment and will add even more variety to the sessions put on by the System Energize team of personal trainers at WLTSC.
"This new facility will allow us to prepare our elite athletes for competition using the latest techniques," said Paul Fothergill, Head of System Energize.
"This will add a positive knock-on effect not just to our aspiring athletes but all our regular gym users, as personal trainers will be able to deliver fitness programmes using up-to-date, functional equipment.
"Members will benefit from being able to follow the training techniques used by professional athletes and celebrities as they too aim to reach their goals."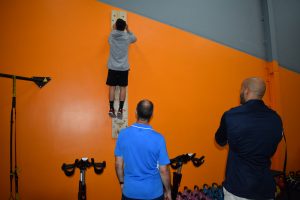 Marc Hughes, Operations Manager at WLTSC, added:  "We were delighted to welcome Matt to the club to officially open the new and additional Strength & Conditioning facility.
"As a club we are always keen to keep moving forward and making progress, whether it is in our tennis, squash and racketball programmes, but also with fitness and the social side of the club.
"It will be great to see members able to work out in The Pit as well as our existing top quality gym, and we are also holding discussions at the moment with a view to bring in even more exciting developments in the future."
https://www.expressandstar.com/news/local-hubs/wolverhampton/2018/09/24/matt-murray-kicks-off-new-fitness-area-at-wolverhampton-club/
*Fancy giving 'The Pit' a go along with all our other excellent facilities for tennis, squash, racketball and social events?  Pop in to the club or call (01902) 755265 to discuss membership options.