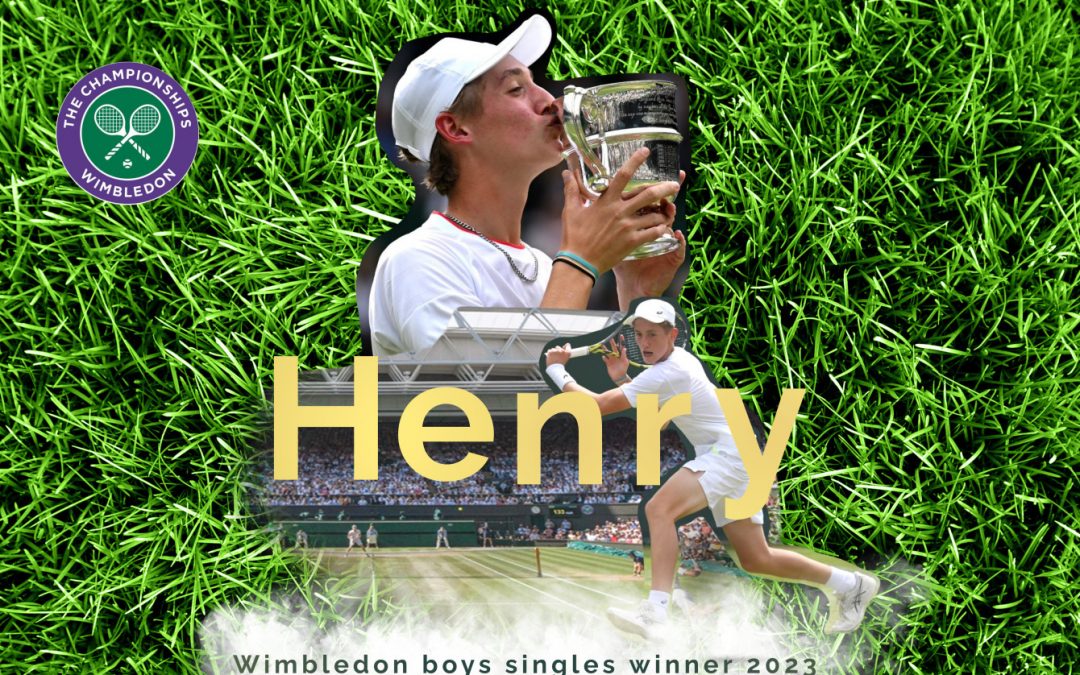 WOW! What a week we had last week! One of our members, Henry Searle, who began playing tennis at Tots Tennis when he was 2 years old, WON the Wimbledon Boys Singles title and we couldn't be more proud!
The week started off with Henry knocking out top seed Juan Carlos Prado Angelo, winning 7-6, 6-3! And so, our crazy week began!
This win was covered in the Sun Newspaper on Monday, who called Henry, a 'Wolverhampton Wonderkid' benefiting from his 'barmy army' of supporters. This core group with others joining on different days, demonstrated the amount of pride and support WLTSC has for Henry and his achievements.
On Tuesday, our Head of Tennis, Max Thomson, was interviewed live on Radio WM from our beautiful patio, overlooking the tennis courts. Then on Wednesday, The Express & Star visited to celebrate Henry reaching the quarter finals, played on Thursday. Watching the quarter finals on iPlayer and listening to well-known tennis players and presenters, Andrew Castle, John Lloyd and Clare Balding, speaking so highly about one of our members made everyone feel incredibly proud. However, it wasn't just Henry receiving the attention of the commentators, but his Barmy Army of supporters who featured a lot during the match and in an interview given by Henry in the following days!
In true British weather style, 'rain stopped play' for the semi-finals on Friday but this didn't dampen our spirits at the club with lots of 'good luck' video messages been shared, more coverage in the Express & Star and a general excitement from members around the club, waiting to show their support up in the bar!
Finally, the wait was over, and Henry played his semi final on a very blustery Saturday. With the Barmy Army supporters at Wimbledon and the supporters filling the bar at the club, it was time to play! A tense set included a contentious point when Cooper Williams, his 4th seed opponent, hat blew off in the wind. Unlike the weather and his supporters, Henry was calm and controlled, winning the first set 7-6 and then the second, 6-3 becoming the first British boy to reach the final of Wimbledon since Jack Draper in 2018.
The atmosphere at the club was incredible and the cheers drowning out the Barmy Army's cheers from the TV!  The celebrations and good luck messages continued on social media and WhatsApp groups, including a recorded message via Twitter, from Wolverhampton Wanderers Manager Julen Lopetegui, which only added to excitement as we all waited for finals day!
Sunday 16th July 2023, the day club member Henry Searle, reached the Wimbledon Boys singles final. Some members were lucky to get tickets and had an early start to get there to add to the on-court support! The club ran its annual Wimbledon Whites tennis tournament in the morning finishing in time to join both BBC & ITV news (there to cover this momentous game) and other members gathered in the bar, to see Henry step out onto Court 1.
The Barmy Army sat in Court 1, had grown in numbers and were all wearing supportive T-shirts, and the home crowd in the First Serve bar, were all very vocal throughout the match, cheering all and EveryPoint WLTSC's tennis academy name!) of the games. The roof was nearly 'cheered' off as Henry took the 1st set 6-4 and then again, serving for the match to WIN the Boys Singles title 6-4 in the second set!  In that moment, Henry became the first British boy to win the Wimbledon Boys Singles since 1962 and WLTSC had its first home-grown Wimbledon champion!
While we celebrate the success of Henry who is based at Loughborough University National Tennis Academy, we also celebrate our club and all we offer members. It is not only 15 tennis courts (including 3 grass) that we have, but also 6 squash courts and 2 gym areas including spin bikes. Both tennis and squash & racketball offer junior programmes, school camps, adult programmes, internal and external tournaments, to provide every member with a sport or fitness regime to suit their requirement.
If you would like to become a member of our club and experience all we offer, why not contact us to come and have a look around.