The cream of the county's tennis talent descended on Wolverhampton Lawn Tennis & Squash Club for the annual Staffordshire Championships, which came to an exciting conclusion at the weekend.
Over 100 competitors took part in 26 different events during the week-long event, which came to an end with Saturday's Finals Day and a host of great tennis in front of a sizeable crowd.
"It went really well and we had a successful week with lots of really good matches," said tournament organiser, and WLTSC coach, Max Thomson, who worked with experienced tournament referee Ron Allan.
"There were also some good results from people from Wolverhampton but the main thing is that everyone enjoyed themselves and enjoyed their tennis.
"Ron did a great job and it was nice for the club to host the event and also see so many parents and families come and support the younger players."
On court, it was a good Finals Day for Tom Welsh, also a WLTSC coach, who won both the Men's Singles – defeating Henry Parry – and then linking up with Parry to claim the Men's Doubles against Jamie Crothers and Allan Pengelly.
And that makes it 15 singles games unbeaten for Welsh, who had previously won the Club Championships at WLTSC and also events at Sutton Coldfield and Tipton.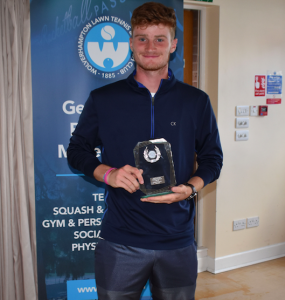 "This is the fourth year I have managed to win the doubles, this time with Harry but previously with Jake Lawley, but it's my first singles," he said.
"I'm playing well at the moment, and it was a good week.
"Entries dropped a bit last year, so it was great to see so many people back and some really competitive tennis particularly on Finals Day."
The Open Women's Singles event was won by Alice Jayne Dudley, with Amy Lees runner-up, and the Doubles by Dudley and Emily Southall.
Southall teamed up with Gregg Spooner to win the Open Mixed Doubles.
Another WLTSC member who enjoyed an excellent week was Sol Shahar, who claimed the Under-16s title by beating Max Walker, the Under-18s doubles by teaming up with Henry Searle to defeat Ross Fletcher and Rohan Thawait, and reached the semi-finals of the Under-18 singles.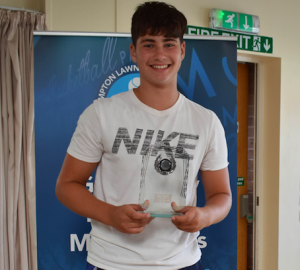 "I'm happy with how I played this week and delighted to win a couple of the tournaments and get to a semi-final in the other," said Shahar.
"There have been a few new faces at the tournament and it is always good to play and test yourselves against different people."
Other notable winners among the juniors were Max Walker, who won Under-14s boys singles and doubles, and Anna Coghlan, who won Under-14s girls singles, doubles and mixed doubles.
At the other end of the age spectrum, WLTSC's Operations Manager Marc Hughes, who had only won one county title since Under-18 level, won the Over-45s Men's event by defeating club colleague Robin Chipperfield in the final.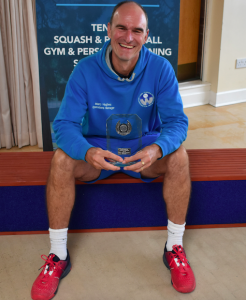 Marc said:  "It was the Hereford and Worcestershire Under-18s which I won, and then the Staffordshire Veterans a few years later in 2017, so it's always nice to win another county title!
"On a more important note we have all been delighted to have hosted another fantastic tournament this week, from the organisation led by Max and Ron, to our members coming down in large numbers to support and enjoy the tennis.
"As a club we really enjoy welcoming the top talent from across Staffordshire, and look forward to hosting the tournament again in the future."
For Allan, who referees at numerous tournaments across Staffordshire, it was also an enjoyable week.
"The tournament has gone very well and the behaviour and the tennis has been good," he said.
"It has been competitive but played in the right spirit as it is always important that everyone is able to enjoy fair play.
"I only keep doing these tournaments because I really enjoy it and this has been no exception.
"The club and the members here have been brilliant in allowing us to host the tournament and use the courts  and I have enjoyed working with Max who has done a fantastic job."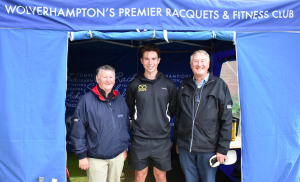 Clive Paddison, Staffordshire LTA's treasurer, was among the spectators on Finals Day and was very impressed with what he saw.
"I always love to come and watch these events, and it never ceases to amaze me how brilliant the standard is," he said.
"I was watching the Men's Doubles Final, which was very impressive, as was the Under-14s Boys Doubles on the next court.
"I like the way they are all very competitive but also friends with each other and appreciate each other.
"It is a good set-up at the club to host the event, and I know it struggled a bit last year but has now been really invigorated.
"We are really pleased with how it has gone this year and are glad that the club are happy as well.
"It is a very important week for us – the championships of the county – and it is important that we have a good quality event which we have enjoyed this year."